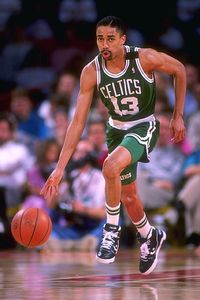 Tim Defrisco/Getty Images
Former Celtics guard Charles Smith dribbles up the court. Former Celtics guard Charles Smith, who spent a little more than a season in Boston from 1989-1991, was shot in his Bowie, Md. home Thursday afternoon, according to reports from News4 in Washington, D.C. More from the wires:
Smith was shot twice in the chest, according to the report. He was hospitalized and underwent surgery Thursday afternoon. He is listed in critical-but-stable condition.

According to the report, Prince George's County police are searching for a single gunman.

Smith was the Big East Player of the Year and a consensus All-American in 1989 as a guard for Georgetown from 1985 to 1989. During his career he averaged 18.7 points a game and led the Hoyas to the Elite Eight in the NCAA tournament in 1989.

Smith played for the 1988 U.S. Olympic basketball team that won a bronze medal and went on to play for the Boston Celtics as an undrafted free agent.

In 1992, Smith was convicted of vehicular homicide and leaving the scene of a crime in the hit-and-run deaths of two Boston University students.
Click HERE to read more.