Exclusive video: Shaqtue in the Square
October, 22, 2010
10/22/10
9:03
AM ET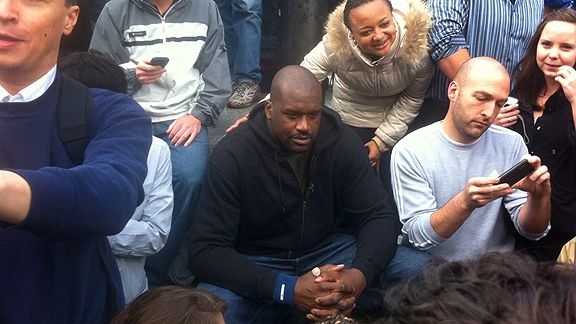 ESPN was granted exclusive access Thursday as Shaquille O'Neal invaded Harvard Square and posed like a statue for hundreds of fans.
So how did he come up with the idea?
"The idea of the Shaq statue originated from watching TV one day," Shaq told ESPN. "I was watching the royal British guards. If you know anything about those guys they have tremendous discipline. The other idea is I always wanted to tell people I went to Harvard."
Check out the video above for a good laugh.
PODCASTS
Peter King, NFL
Play Podcast Sports Illustrated's Peter King weighs in on the Patriots' offensive line, the outlook for New England, Jim Harbaugh's relationship with his team and the Cowboys' success.
Opening Rant, 9/30
Play Podcast Colin Cowherd shares his thoughts on the state of the Patriots, New England's offense and Brady Hoke's future at Michigan.
First Take
Play Podcast Skip Bayless & Stephen A. Smith debate if the Patriots dynasty is over, if the 49ers have stopped listen to Jim Harbaugh and more. Plus, they make their World Series predictions.