Shaquita? Bananas
October, 24, 2010
10/24/10
5:00
PM ET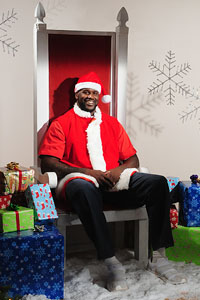 Barry Gossage/NBAE/GettyFor his next act, Shaq says: "Let it snow, let it snow, let it snow."
WALTHAM, Mass. -- His
Twitter profile
proclaims that he performs "Random Acts of Shaqness," and only Shaquille O'Neal could find ways to hypnotize a pack of reporters while talking about just about everything other than Tuesday's season-opening blockbuster between his Boston Celtics and a Miami Heat squad he once helped to a championship.
With Paul Pierce and Ray Allen punting media chores to Monday, a quote-hungry media throng was left surrounding the self-proclaimed "very quotatious" O'Neal for his latest marathon session filled with one-liners and unfiltered opinions.
Two days after his
"Shaqtue" stunt in Harvard Square
, O'Neal brainstormed for future endeavors Sunday. Here's what The Big Shamrock suggested might lie ahead:
* Idea No. 1: Shaq the Snowman
: With winter approaching, O'Neal is considering taking advantage of the elements. "I'm thinking of buying a snowsuit, then standing in the middle of a field, and having people throw snowballs at me."
* Idea No. 2: Fits to a T
: When a reporter asked if O'Neal had taken a ride on the city's trains yet, O'Neal's eyes lit up. After pondering the suggestion for a moment, he declared he might venture out next week for his trek on the MBTA rails. Before you could even add some money to your Charlie Card, O'Neal's idea got even more ridiculous...
* Idea No. 3: Shaquita?
: Reminded that next week is Halloween, O'Neal expanded on the train idea, saying he'd board the train while dressed like a woman he dubbed "Shaquita." Shaq said he (errr, she) might only ride one stop, but would get dolled up in wig and dress, while accentuating his (err, her) assets. To provide the visual, O'Neal stood up, puffed out the chest area of his practice jersey, and playfully chased the reporter who offered the original train suggestion, calling his name in a female voice.
During the (obviously) wide-ranging conversation, O'Neal dubbed himself merely one act in Boston's three-ring circus, calling it the funniest team he's ever been on, and suggesting that Nate Robinson and Glen Davis need their own comedy show.
As usual, keep an eye on
@The_Real_Shaq
for when and where the next "Random Act of Shaqness" will occur.