Stats & Info: Celtics vs. Heat
October, 27, 2010
10/27/10
12:55
AM ET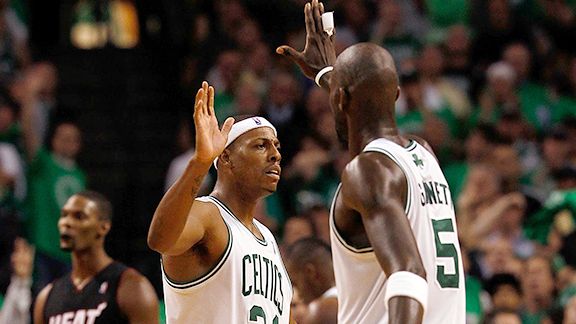 Jim Rogash/Getty ImagesBoston's Big Three came up big. Miami's? Not so much.
BOSTON -- Three quick hits from the wizards at ESPN's Stats and Information (hat tips to Mike Trainor and Jason Starrett for compiling):
Big 3's debut comes up small
In the offseason, the Heat were looking to match the Celtics' Big 3 with the acquisitions of
LeBron James
and
Chris Bosh
(while retaining
Dwyane Wade
). While James (31 points) and Dwyane Wade (six assists) put up quality numbers, the Heat actually performed better when the triumvirate was not on the floor together.
With Miami's Big 3 on the court, the Heat were a minus-8 overall in plus/minus over 29 minutes, 20 seconds of action, shooting 36.4 percent (16 of 44 overall) and committing 10 turnovers.
With the Big 3 not united on the court, the Heat were even in plus/minus, shooting 36.7 percent (11 of 30 overall) with seven turnovers.
'Pierce'-ing the King's Armor
The Celtics utilized a handful of defenders on LeBron James Tuesday night, but it was
Paul Pierce
who proved most effective. Pierce was the defender on 14 of James' 21 field goal attempts and he limited the Heat star to under 43 percent shooting overall. More importantly, Pierce forced five of James' game-high eight turnovers, including three in the second half.
Guarded by Pierce, James shot 42. 9 percent with five turnovers and 11 points scored (includes points via free throws). Defended by the rest of Boston's roster James shot 57.1 percent with only three turnovers and 20 points scored.
Opening Night Jitters?
The Celtics and Heat combined for 35 turnovers (perhaps expected in a season opener). But it could have to do with the ball movement (or lack thereof) on the offensive end of the floor: 28 of the game's 35 turnovers were committed on possessions in which three or fewer passes were completed, including 12 of the 15 turnovers committed in the second half.
PODCASTS
Adam Schefter, NFL
Play Podcast ESPN NFL Insider Adam Schefter covers Rob Gronkowski's latest forearm surgery, the possibility of a new league schedule, Super Bowls L and LI, Charles Woodson and more.
Barry Melrose, NHL
Play Podcast ESPN NHL analyst Barry Melrose talks about big wins for the Bruins and Sharks on Thursday night and compares the end of Wayne Gretzky's career to the end of Michael Jordan's career.
Broussard And Virk On Another Gronkowski Surgery
Play Podcast Adnan Virk and Chris Broussard discuss another surgery on Rob Gronkowski's broken forearm and wonder if Gronkowski's inability to heal from this injury is a red flag for the rest of Gronkowski's career.