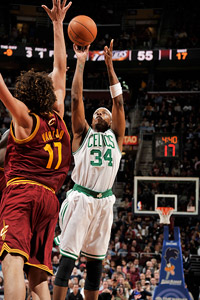 David Liam Kyle/NBAE/Getty
Paul Pierce and the Celtics are struggling in the mid-range so far this year.The mid-range shot (16 to 23 feet) isn't one of Boston's biggest weapons as the team averaged only 16.6 attempts per game from that distance last season (third least in the NBA, ahead of only Houston and Orlando). But the Celtics were fifth best in the NBA at that distance, shooting a solid 40.8 percent, meaning its nice to have in the toolbox.
Through the first two games of the 2010-11 season, the Celtics haven't harnessed the full power of their mid-range game, connecting on a mere 9 of 27 attempts (33 percent) from 16 to 23 feet. In fact, Kevin Garnett produced Boston's only three mid-range jumpers of the game against Cleveland (Boston finished 3 of 11 overall; KG was 3 of 5).
The Celtics are making a concerted effort to get the ball inside more and hope that kickstarts an inside-outside game that could further fuel the mid-range. On opening night, the team posted up Rajon Rondo on the blocks at one point and, when the defense collapsed, he zipped the ball out to Garnett for his trademark 21-foot jumper from the top of the key.
What's more, when Ray Allen struggled with his 3-point shot last year, he became one of the better mid-range shooters in the league, connecting at nearly 50 percent from 16 to 23 feet. And everyone knows Paul Pierce thrives from the mid-range, even if his number of attempts from that range have dwindled, in part due to his own increased consistency beyond the arc.
Through two games, Boston's second unit is a mere 1 of 7 from the mid-range and it's clear how much the unit misses Delonte West there. His ability to both hit that shot, and create open looks when he drives is evidenced in the lack of production. Both Glen Davis and Jermaine O'Neal have potential to add a punch there, but Davis is finding easier baskets around the rim and O'Neal simply hasn't found a rhythm yet.