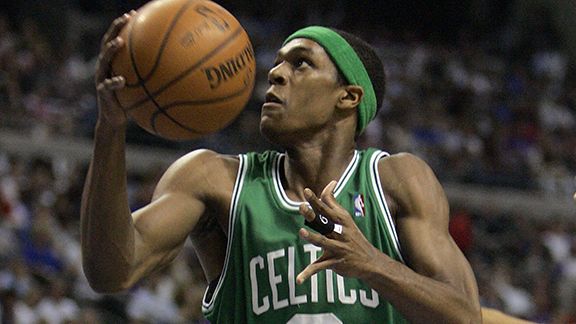 AP Photo/Paul Sancya
How did Rajon Rondo follow his 24-assist performance? Posting 17 assists and no turnovers.First impressions from afar after the Boston Celtics defeated the Detroit Pistons 109-86 Tuesday night at The Palace of Auburn Hills.
HOW THE GAME WAS WON
Rajon Rondo continues to make the 2010-11 NBA season his playground, dishing out 17 assists (to go along with nine points and four steals) while not turning the ball over once to spark Boston's offense (he was also a game-best plus-21 in the plus/minus). Rondo, the reigning Eastern Conference player of the week, now boasts 67 assists through four games (16.8 per game). Kevin Garnett was a chief beneficiary, scoring a team-high 22 points on 9-of-12 shooting, while Paul Pierce added 21 points on 8-of-13 shooting.
TURNING POINT
The Celtics were clinging to a five-point lead with a little more than four minutes to go in the first half, but with the starters re-entering, Boston closed out the half on a 12-4 run to open a 13-point cushion at intermission. Ray Allen and Rondo both canned 3-pointers over the final 42 seconds to highlight the burst.
STAT OF THE GAME
Not only did Rondo have no turnovers, Boston only gave the ball away eight times (eight times!?). For a team that approached 20 turnovers for much of the preseason and the start of the regular season, that's downright eye-popping. The extra opportunities surely helped Boston put up a season-high 109 points (though a poor opponent didn't hurt either).
UNSUNG HERO
Making his NBA debut, Semih Erden connected on the only shot he took, grabbed three rebounds, produced a pair of blocks, and was otherwise rock solid in 15 much-needed minutes off the bench. He's still raw, but the potential shows through.
WHAT IT MEANS
If there's one negative, it's that the Celtics didn't rest their starters nearly as much as they might have liked with the back end of a back-to-back looming Wednesday night when the Milwaukee Bucks visit TD Garden on Wednesday. Even still, the Celtics gets a breezy win on the road -- something they didn't get in Cleveland -- and walk away with a number of positives, including Jermaine O'Neal starting to turn the corner after a rough start to his 2010-11 campaign.