Bulls forward Joakim Noah hasn't been bashful about expressing his opinions on Celtics forward Kevin Garnett. He sounded off (again) on ESPN radio in Chicago Wednesday. From ESPN Chicago: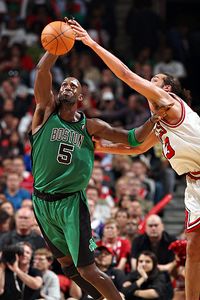 Gary Dineen/Getty Images
Joakim Noah hasn't been bashful about his thoughts on Kevin Garnett.
"He's a very mean guy," Noah said. "Where's the love? None at all. Ugly, too."

Noah said what makes the relationship difficult is how big a fan he was of Garnett before entering the NBA in 2007.

"I had his poster in my room," Noah said. "I used to wear his jersey. And the truth is my rookie year, I was in admiration of this guy, and he kind of shut me down.

"And he was very mean to me my rookie year. And he's only mean to the young guys and the [European players], for some reason. I don't know why, but that's who he doesn't like. He's not nice. I talk a lot of trash out there, but c'mon, be a little sensitive. Be sweet."
Click HERE to read the full story.
Noah sounded off on Garnett after the Celtics' win over the Bulls last Friday in Boston, upset by what he felt was Garnett goading him into a technical foul at the end of the first half.
"I don't even want to get into that," Noah said. "I think … whatever. He is who he is. At the end of the day, it cost me $2,000 today [for the technical foul]. Just getting upset at his dumb [stuff]. I'm not getting involved in it. It's stupid. I let his dumb a-- cost me $2,000, so I'm the dumb a--."
The feud started during last year's playoffs when Noah dubbed Garnett a "dirty player" for an elbow to the head of Heat swingman Quentin Richardson that resulted in Garnett being suspended for one playoff game.
"I'm going to say it: He's a dirty player," said Noah, who later added, "I don't make the decisions. But he's always swinging elbows man. I'm hurting right now because of an elbow he threw. It's unbelievable. He's a dirty player. It's one thing to be competitive and compete. But don't be a dirty player man. He's a dirty player."