MEMPHIS -- A few notes after the Boston Celtics and Memphis Grizzlies held their shootarounds Saturday morning at the FedExForum:
--SHAQ: 'NO [EXPLETIVE] LAYUPS'--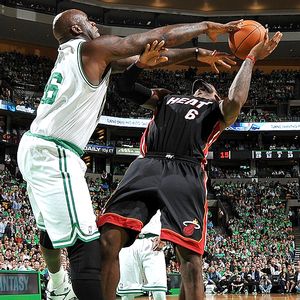 Brian Babineau/NBAE/Getty Images
Shaquille O'Neal delivers a hard foul against LeBron James last month in Boston.Celtics center Shaquille O'Neal earned a flagrant foul for a body-check he applied to former teammate LeBron James in the third quarter of Boston's win Thursday night in Miami. On Saturday, he discussed his philosophy on potential layups, emphasized by a certain 12-letter curse word.
"That's what I do: No [expletive] layups," said O'Neal. "Print it just like that and, if you get fined, come see me, and I'll reimburse you... No layups."
O'Neal nimbly avoided saying too much about the actual play, in which James stormed the lane in transition and got throttled as Shaq delivered a two-armed shove as James drew contact. O'Neal then threw his arms up in the air and moved away (instead of coming down hard on James), but still earned the flagrant-1 designation.
"I can get grabbed around the neck and it's not flagrant, but as soon as i body-check somebody... ," O'Neal said trailing off. "Hey, man, I'm used to it. But, yeah, no layups. Guys in our league, they know that. They know I'm serious about that."
The Celtics know full well after O'Neal used his full complement of six fouls to enforce the lane during his time with the Cavaliers, especially during last year's Eastern Conference semifinals. Rajon Rondo, in particular, learned the hard way about attacking the basket with Shaq protecting the rim.
When someone like James is storming the lane, O'Neal knows the rule of thumb is to try and draw the charge. He also knows James isn't going to get whistled for a lot of those.
"You're supposed to take the bump and fall," explained O'Neal. "I'm not going to do that because they're not going to call it anyway. With him coming full speed like that, you're probably not going to block his shot, so you gotta chuck him. I think he missed, what, one of those free throws? So yeah, you just gotta chuck him. He's a tough kid, he can take it. There's a difference between a hard foul and trying to hurt somebody."
As for trying to take charges, Shaq's done with that. During his time with Phoenix, got into a war of words with Orlando Magic coach Stan Van Gundy about perceived flop while defending Dwight Howard. He's still sore about it when reminded Saturday and said it's all about giving the foul now.
As for his health, O'Neal said he's still sore from Thursday's game -- his first after sitting out five straight with a right knee bruise -- but will be back in the starting lineup for Saturday's game.
--JUST ANOTHER GAME FOR TA--
While Tony Allen's time in Memphis probably hasn't gone as he planned -- Allen is averaging just 12 minutes per game and earned two DNP's last week (coach's decision) in a pair of the Grizzlies' wins on a four-game road trip -- he remains content with his new situation.
"How's everything been going? Everything's been going cool so far," said Allen, leaning on the trunk of a display Lexus in the concourse of the FedExForum after the Grizzlies finished their morning workout. "Everything's copacetic. I'm taking everything in stride, trying to learn the offense, trying figure out what they need from me defensively and learning the sets. But I'm enjoying my new situation."
Allen surprisingly bolted Boston this offseason, signing a three-year, $9.5 million deal and leaving the Celtics scrambling a bit to fill depth at the wing position. Allen reiterated that it was a hard recruitment by Grizzlies general manager Chris Wallace, Boston's former front-office leader who drafted Allen with the 25th pick in 2004 draft, that led him to make an early decision to join Memphis.
Allen sad he felt "wanted" in Memphis, but suggested he didn't necessarily feel unwanted in Boston. Asked if he might have been more likely to return to Boston if they had recruited him harder in the early stages of free agency, Allen simply shrugged and said he's happy to be with the Grizzlies.
Allen, who wears No. 9 now in Memphis, is averaging 5.1 points, 1.6 rebounds, and 1.4 assists over 12.7 minutes per game. After his two-game absence, he returned to the court earlier this week against Dallas and chipped in four points, three assists, and two rebounds over 10 minutes off the bench.
"I'm just trying to find my niche," said Allen. "Trying to find where I can get my groove in on the defense and offense end. Right now I'm just learning the sets -- they've got a lot of sets -- and I'm just trying to learn."
--PIERCE DOWNPLAYS 'SOUTH BEACH' TWEET--
Asked about his tweet that took a playful jab at James following Boston's victory over Miami Thursday night, Pierce brushed it off, telling reporters, "It's self-explanatory."
"I mean, there's nothing else to talk about. I don't need to add to it," Pierce said, according to the Boston Herald. "Don't get caught up in all that media hype. What's wrong with y'all, dog? Y'all need to stop watching SportsCenter, ESPN. Don't get caught up in all that. C'mon now, we're better than that. C'mon."