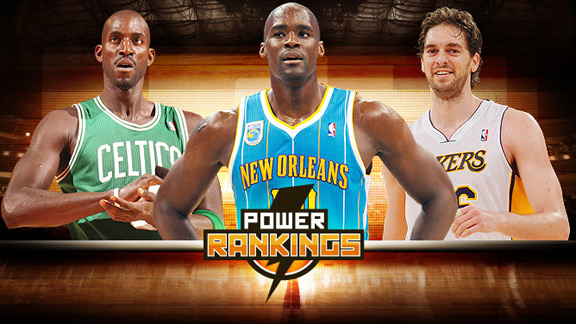 ESPN Illustration
Are Kevin Garnett and the Celtics the best team in basketball?The Boston Celtics vaulted into the top spot in ESPN.com's NBA power rankings this week, climbing one spot to vault the stumbling Los Angeles Lakers. Here's more from curator Marc Stein:
Doesn't happen often that a team outside the generally accepted clutch of certifiable title contenders can seize the No. 1 spot in ESPN.com's weekly NBA Power Rankings.

The surprising New Orleans Hornets, however, are as close as you can get.

As the NBA's last remaining unbeaten team and with a vastly improved defense delivering six wins already against teams that made the playoffs last season, New Orleans is on the brink of a thoroughly unforeseen ascent to No. 1.

Only the Boston Celtics' third successive bolt out of the gates since Kevin Garnett's arrival before the 2007-08 season -- highlighted by home and away triumphs over a Miami team widely tabbed to dethrone the Celts in the East -- and Boston's unquestioned status as championship material prevented the Hornets from rising all the way to the top. Don't forget that your faithful rankings committee (of one) always factors in a team's long-term prospects (consider it as a subjective measure of overall "power") along with recent events.
In regards to the Celtics, Stein adds:
The Celts' only two losses came on the road on the second night of a back-

to-back. Our guy Rondo, meanwhile, has racked up at least 15 assists in seven of 10 games already ... after doing so eight times all of last season.
The Celtics have steadily climbed John Hollinger's computer rankings, but still check in at No. 3 this week, behind a Heat squad it beat twice and the top-ranked Hornets. Margin of victory continues to hurt the Celtics in Hollinger's formula.
Agree? Disagree? Submit your own rankings HERE.