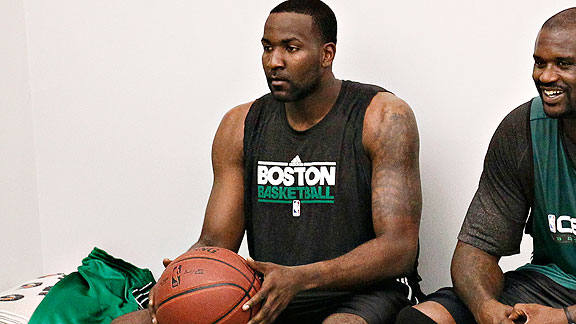 AP Photo/Winslow Townson
Kendrick Perkins finds inspiration in Patriots wide receiver Wes Welker.Sitting on the sideline while rehabbing his surgically repaired knee has been frustrating for Kendrick Perkins, but he has a fix for that: Watching Wes Welker, writes ESPN Boston's Peter May:
BOSTON -- Kendrick Perkins can now look ahead -- optimistically and realistically -- to the day he will again play basketball for the Celtics. He said that day is not that far away; he's pointing to a mid- to late-January return date.

When he does return, he'll have many people to thank for getting him through the recovery process of major knee surgery. But two stand out: Wes Welker of the New England Patriots and a deceased man whose identity will forever remain unknown.

Perkins tore both the anterior cruciate ligament and the medial collateral ligament in his right knee during Game 6 of the 2010 NBA Finals. He waited a month before undergoing surgery, getting a second opinion from Dr. Thomas Gill, the man who performed the ACL surgery for Welker. Gill told Perkins to get his quad muscle as strong as possible. Perkins did that and then had the surgery July 15.

Monday was the four-month anniversary of the procedure, which was performed by Celtics team physician Dr. Brian McKeon. Perkins walks without a brace, can do shooting drills and, to the untrained eye, looks like he could step in at starting center Wednesday night against the Wizards.

"He is looking great,'' McKeon said. "He's keeping his weight down. He's sticking to the proper diet. But it was a major surgery, and I always tell athletes that it could be 18 months before it's the best that it can be."

That might be McKeon's take, but Perkins plans to be on the court six months after the operation. For that, he thanks Welker, the Patriots' diminutive wide receiver, for being a daily inspiration during the long, arduous days of rehab.

"My motivation was Wes Welker,'' Perkins said. "Watching him come back after six months and now he's on the field, without a brace. That's unbelievable. I watch him. But at the same time, you also have to listen to your own body. I feel great. But I still use him as motivation. I come in, put in my rehab and think of him. I do more when they ask me to do more."

Welker and Perkins met at a recent Celtics game, with the Pats playmaker offering the Celtics center his best for a speedy recovery. Welker blew out his left knee Jan. 3, was back working out at training camp in the summer and played in the Patriots' season opener against the Bengals.
Click HERE to read the full story.