WALTHAM, Mass. -- And on the 11th game, Delonte West's neighbors rested.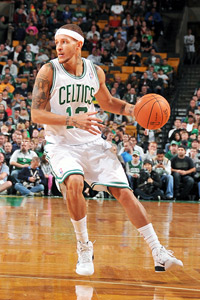 Steve Babineau/NBAE/Getty
Delonte West's veteran presence should be a boon for the Celtics' reserves.With West barred from the arena for two hours before and after each of the 10 games he was suspended to start the 2010-11 season, he often watched Boston Celtics games from his living room sofa like a casual fan.
And since nearly a third of those games spilled into overtime and only one was decided by double figures, West found himself cheering pretty enthusiastically in support of his teammates. Loudly enough that neighbors had to ask him to keep it down.
"My neighbors even banged on the wall a few times," West said with a smile. But those overzealous moments only made him appreciate his impending return more.
"Seeing those guys on TV, it made me think to myself: 'I'm a part of that.' Then I come in and see those guys [at the practice facility] and you appreciate being in the NBA all over again."
The Celtics expect to thrust West back into battle Wednesday night when the Washington Wizards visit the TD Garden. West, who was drafted by the Celtics in 2004 and was part of the trade that brought Ray Allen to Boston after the 2006-07 season, downplayed the potential for nerves. But it figures to be an emotional evening as he's likely to receive a stirring ovation when he checks into the game for the first time as Garden fans who roared for him the first three seasons of his NBA career should welcome back an old friend with open arms and offer him their support after a tumultuous summer.
Click HERE to read the full story.