Worth the wait
November, 18, 2010
11/18/10
5:00
AM ET
His suspension over,
Delonte West
began anew for the Celtics on Wednesday, contributing off the bench in an easy win, writes
ESPN Boston's
Peter May: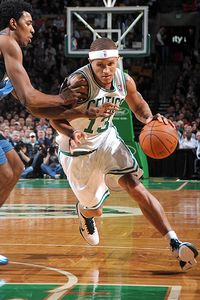 Brian Babineau/NBAE/GettyDelonte West had 12 points in 21-plus minutes in his season debut Wednesday.
BOSTON -- He could have had the date circled, underlined and capitalized. That is, if Delonte West didn't know, intuitively and instinctively, that the 11th game of the Boston Celtics' 2010-11 season fell on Nov. 17.

The venue? Who cared. The opponent? Ditto. His team was 10 games into a season that he could watch only from afar, not even from the bench during games. That's what happens when you mess up off the court and David Stern steps into your life as judge and jury.

If there was anyone at TD Garden on Wednesday night who cared a whit about West's transgressions, he or she was hard to see. West was welcomed back with a warm ovation when he entered the game late in the first quarter -- and then got a quick reminder of what it's all about.

"The fans, they showed me some love,'' West said. "It almost brought a tear to my eye. Then Nick Young scored about four straight baskets on me and the tear dried up pretty fast."

Getting West back into the rotation as a productive member of the second unit has been on Doc Rivers' to-do list since the Celtics signed the guard on Sept. 1. West had been a starter for most of the past two seasons in Cleveland, but here, in his second go-round with the Celtics, the plan was to make him a valuable reserve, able to play either guard position.

It was a role West embraced, in part because there weren't a lot of teams knocking on his door this summer. He had been arrested after he was stopped on a motorcycle and found to be carrying two loaded handguns and a loaded shotgun in a guitar case. (Come to think of it, why didn't one of the Texas teams try to sign him?) The charges resulted in a guilty plea to weapons charges and the aforementioned 10-game suspension. Cleveland unloaded him. Minnesota released him -- Minnesota!

West thinks both moves were made because of his behavior, not because of his basketball abilities. He can't see it any other way -- and for a nanosecond he wondered if everyone else might feel the same way.

"For a minute in the summertime, I thought I'd never be on an NBA court again,'' he said. "But they [the Celtics] know what I'm about. They understand the difference between a bad decision and a bad person."
Click
HERE
to read the full story.
PODCASTS
Peter King, NFL
Play Podcast Sports Illustrated's Peter King weighs in on the Patriots' offensive line, the outlook for New England, Jim Harbaugh's relationship with his team and the Cowboys' success.
Opening Rant, 9/30
Play Podcast Colin Cowherd shares his thoughts on the state of the Patriots, New England's offense and Brady Hoke's future at Michigan.
First Take
Play Podcast Skip Bayless & Stephen A. Smith debate if the Patriots dynasty is over, if the 49ers have stopped listen to Jim Harbaugh and more. Plus, they make their World Series predictions.