BOSTON -- Celtics coach Doc Rivers said Kevin Garnett always finds a way to fire himself up for games, even if it means manufacturing something about an opponent, just to get himself revved up to typical KG intensity.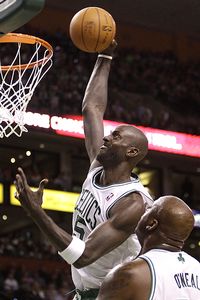 AP Photo/Stephan Savoia
Kevin Garnett (18 points, 9-of-11 shooting) seems to have his old explosiveness back in his second season since having knee surgery.Garnett didn't need to invent anything Wednesday. He would admit that the memories from last April's lopsided loss to the Washington Wizards -- one in which fans showered the Celtics with boos -- remained fresh in his mind seven months later.
In that Wizards win, Andray Blatche registered 31 points and 11 rebounds, running circles around Garnett, while producing what may have been his finest effort of the 2009-10 season. Garnett hasn't forgotten it.
As Rivers noted, "Players -- they have memories."
Garnett responded Wednesday by connecting on 9-of-11 shots for 18 points and grabbing seven rebounds over 23 minutes as the Celtics atoned with a 114-83 thrashing. Garnett also limited Blatche to 10 points and three rebounds.
"This team gave us problems last year, and we haven't forgotten that," Garnett said. "I haven't. Paul [Pierce] and I got here and could hear [former Celtic turned Wizards assistant coach] Sam Cassell [boasting] about how young they were and how they are going to come at us, but this team gave us problems last year. We made note of it."
Garnett, who underwent knee surgery following the 2008-09 campaign and seemed to be feeling the effects at times last season, doesn't like to talk about how he's feeling physically. When a reporter asked Pierce, who was seated next to Garnett at the duo's postgame press conference, about the veteran forward's health, Garnett scoffed a bit.
Pierce didn't bite, but it's not hard to tell this is a different Garnett. The explosion is back, as evidenced by the number of lobs he's catching and slamming down. Garnett was clearly hobbled last year, including in that game against Washington, and he made a point Wednesday of showing Blatche and the Wizards what he's capable of now.
Click HERE to read the full story.