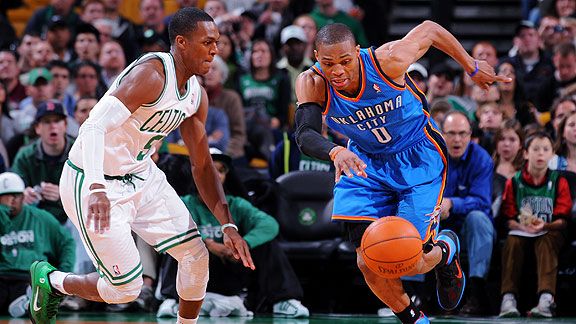 Brian Babineau/NBAE/Getty Images
Russell Westbrook got the better of Rajon Rondo Friday night at the TD Garden.With Kevin Durant sidelined, the Celtics vs. Thunder matchup was a battle of the point guards. And Russell Westbrook took the cake this time writes ESPN Boston's Jackie MacMullan:
Brian Babineau/NBAE/Getty

Russell Westbrook had a game-high 31 points as the Thunder beat the Celtics on Friday.So here's how Russell Westbrook's night went on Friday.

He dropped 31 points on the Boston Celtics, scorching league darling Rajon Rondo for many of them, calmly sank the game's most critical free throws to clinch an Oklahoma City Thunder victory for his young club on the hallowed Garden parquet, and still managed to miss all seven shots he took in the fourth quarter.

Oh, and did I mention he turned the ball over a game-high seven times?

Or that he completely befuddled Boston by slowing Oklahoma City's normally frenetic tempo to a virtual waltz, hoping that would offset the glaring absence of Kevin Durant, who didn't dress because of a bum ankle?

It's an adventure to ride the Westbrook train, alternately exhilarating and exasperating, and then exhilarating again. He's a gifted scorer, an explosive player, a young guy who wants to get there now, not later -- which can lead to brilliant plays, crazy shots, bunches of turnovers and a stat sheet that's never malnourished.

Consider this: Westbrook is one of only three players in the league who is averaging 20 points, five rebounds and five assists a night. The other two? Kobe Bryant and LeBron James.

"He's not the finished product, by any means,'' conceded Oklahoma City coach Scotty Brooks shortly after his boys stunned the Celtics at TD Garden, 89-84. "But he's a talented guy who never, never stops working.''

Sounds familiar. Boston boasts its own cat-quick, supremely talented point guard who is also impatient to assume his rightful place among the league's elite.

It has been Rondo's modus operandi since he bounded into the NBA to get particularly juiced over matchups with opponents who feature talented point guards.
Click HERE to read the full story.
Read on for more on how the Celtics spited the basketball gods and were smitten in return.
Greg M. Cooper/US Presswire

The Celtics shrugged off a star-less Oklahoma City , and it came back to bite them.They are a spiteful bunch, angered particularly by lethargy.

And while it's been a while since their name has been invoked in these parts, the so-called "basketball gods" returned to the TD Garden on Friday night with a fervor and punished a Boston Celtics team that thought it could sleepwalk past a shorthanded opponent.

No, alerted of pregame transgressions in which the Celtics openly displayed a sense of relief that Kevin Durant and Jeff Green would not be in uniform for the visiting Oklahoma City Thunder, the basketball gods went out of their way to scorn Boston in an almost humorous amount of ways.

"You could hear some comments in the locker room before the game, you know, 'Oh, geez, he's not playing' -- which you don't know which way that's going to go," Celtics coach Doc Rivers said with a sigh. "Veteran teams should know better, and we didn't. You could see it, on both ends, there was no urgency the entire night. I asked them to explain to me how [the Celtics] could hold them to 12 points for the fourth quarter, but for the first three you couldn't guard them. All of a sudden you have a sense of urgency and then, defensively, we were terrific. ... Now you're pressing, missing free throws, missing wide-open shots.

"That's what happens, and it's like -- I believe in them -- the basketball gods were not going to let you win with the way you approached the game."
Click HERE to read the full story.