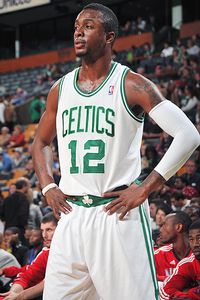 Brian Babineau/NBAE/Getty
Von Wafer is buying into Boston's system and it showed Wednesday.BOSTON -- Glancing down at the stat sheet, Celtics coach Doc Rivers admitted it was unfair. There was the stat line for Von Wafer: 4 minutes, 54 seconds of floor time and a whole bunch of zeroes.
It didn't represent his impact on the game, particularly in the final frame. And if there had been a column for "buying in," it would have had a 1 next to it for the first time.
Rivers stresses to all newcomers that the key to their playing time is buying into Boston's philosophies and, chief among them, is a defense-first mentality. With limited action, including five DNPs through 15 games this season, Wafer hadn't shown yet that he was committed to being a defensive presence when he stepped on the court.
Then he absorbed a one-handed shove from Anthony Morrow, triggering an offensive foul and forcing a turnover just 39 seconds after Wafer stepped on the floor Wednesday night. It happened right in front of the Boston bench and Rivers' face immediately lit up in excitement.
"His stat line's going to say basically nothing," Rivers said after the game. "But I thought his defensive energy was phenomenal, and it was great for Von in the locker room: Everybody was grabbing him and [congratulating him] because --finally -- defense and Von Wafer can now go together. And that's a great thing, it really is. He's bought in, and it's a great lesson for him: Just hang in there. And he did."
It hasn't been an easy start in Boston for Wafer. Brought in on a non-guaranteed contract, it seemed sometimes like everyone was waiting for him to fail during the preseason and he got pushed hard for the 15th spot on Boston's roster by camp invites Stephane Lasme and Mario West.
But when the smoke cleared, Wafer was the one with a locker stall and an NBA job. Then came an early season dust-up in which Wafer and Delonte West engaged in a locker room fist-fight, emotions spilling over from some competitive 2-on-2 games following recent practice sessions.
Now with West sidelined indefinitely with a broken right wrist, Wafer is thrust back into the spotlight as one of the guards that will attempt to fill West's shoes moving forward. And if Friday's game is any indication, Wafer is ready for the role.
His teammates raved about his contributions, with Kevin Garnett offering the highest praise.
"I thought Von Wafer came in and gave us [five] strong minutes," said Garnett. "He was electric in the game. He was energetic, and we made our run and never looked back."
Indeed, it was with Wafer on the floor that the Celtics rallied ahead in the fourth frame. Boston trailed by a bucket entering the final quarter and when Wafer passed the baton to captain Paul Pierce with 7:04 remaining, the Celtics boasted a five-point cushion it would cling to the rest of the way.
Wafer came with a reputation of being a below-average defender, but upon meeting Boston reporters for the first time in August, he laughed it off, deadpanning that "he had heard that" about himself, but thought maybe his reputation as an offensive player had simply forced everyone to focus on that aspect of his game.
With limited time, his stat line in Boston hasn't been very glitzy. He's averaging 1.3 points per game, while shooting a mere 36.4 percent from the floor. He's only made one 3-pointer (in four attempts). It's a far cry from the career-best 9.7 points per game he averaged as a key reserve for the Houston Rockets during the 2008-09 season (earning him a big contract overseas before he returned stateside soon after to rekindle his NBA dream).
But Wafer seems to understand now that it's his defense that's going to get him on the floor -- and keep him there. His offense will come with increased playing time and those 0's in the stat line with soon morph to crooked numbers.
So long as the 1 stays in the "buying in" column.