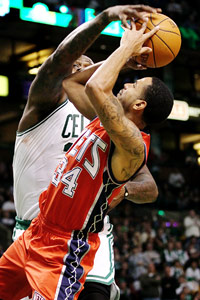 Elsa/Getty Images
Shaquille O'Neal produces one of Boston's recent blocks.The Celtics were far and away the worst team in the league at blocking shots as early as last week. But buoyed by a three-game block party, the team is slowly creeping out of the basement.
Boston blocked a whopping 19 shots over the past three games, producing nearly a third of its season total (60) in a five-day span.
The Celtics blocked six shots against Atlanta on Nov. 22, Marquis Daniels (3) and Delonte West (2) combining for five of them, then topped themselves by registering a season-high eight swats against Toronto on Friday night as Paul Pierce (3), Shaquille O'Neal (2), and Ray Allen (2) all had multiple blocks.
Boston is better at avoiding blocks than it is at registering them. The Celtics are fourth in the league with only 61 rejections against this season, only Orlando (49), Dallas (54), and Miami (60) are better.
For the season, Jermaine O'Neal and Pierce are tied for tops on the team with 10 blocks apiece, while Garnett has nine. Daniels and Shaq have seven apiece.
By comparison, the Celtics finished tied for 15th in the league with 4.9 blocks per game last season. They're a full block less this year (3.8), but coach Doc Rivers is fond of noting that charges are a lot like blocks in the way they discourage opposing shooters to invade the lane, and Boston has 29 charges taken on the season (21 credited to Glen Davis).