Red Claws add Northeastern's Janning
December, 1, 2010
12/01/10
5:55
PM ET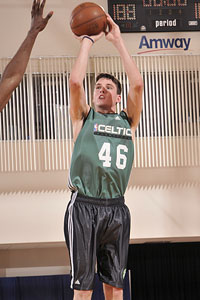 Fernando Medina/NBAE/GettyThe Maine Red Claws inked Northeastern product Matt Janning Wednesday.
The Maine Red Claws signed Northeastern product Matt Janning on Wednesday, filling a roster spot opened when recently acquired Jordan Eglseder was waived due to a knee injury.
Janning shined for Boston's summer league squad, actually being implored by Celtics president of basketball operations Danny Ainge to stick with the team, but decided to join Phoenix's squad for the Las Vegas summer league and it led to an NBA job (he inked a multi-year contract, but couldn't stick early in his rookie season).
Here's more from a release from the Claws:
Janning, a 6-4, 198 lb. guard out of Northeastern, will join the team tomorrow in Springfield. Undrafted in the 2010 NBA Draft, Janning was signed in August by the Phoenix Suns after averaging 12.6 points and 5.8 rebounds for them in the Vegas Summer League. He also played for current Red Claws Head Coach Austin Ainge as part of the Boston Celtics summer league squad in Orlando.

With Steve Nash and Goran Dragic already established, Janning, 22, proved to be the odd man out in Phoenix and was released by the Suns on November 16 despite favorable reviews from the Suns' coaching staff and players. He joins fellow former Huskie Eugene Spates on the Red Claws.

"I have never seen anything like this," said Red Claws president and general manager Jon Jennings of the team's spate of injuries. "Before our season had even begun, we lost Stephane Lasme to a lengthy injury, followed quickly by injuries to Mario West, Lamonte Ulmer, Magnum Rolle and now Jordan Eglseder. I am incredibly impressed by the perseverance our team has shown. They have really pulled together and played well.

"We are very fortunate that a player of the caliber of Matt Janning was available. He is athletic and has a tremendous feel for the game. He will be a good addition to the team."
PODCASTS
Peter King, NFL
Play Podcast Sports Illustrated's Peter King weighs in on the Patriots' offensive line, the outlook for New England, Jim Harbaugh's relationship with his team and the Cowboys' success.
Opening Rant, 9/30
Play Podcast Colin Cowherd shares his thoughts on the state of the Patriots, New England's offense and Brady Hoke's future at Michigan.
First Take
Play Podcast Skip Bayless & Stephen A. Smith debate if the Patriots dynasty is over, if the 49ers have stopped listen to Jim Harbaugh and more. Plus, they make their World Series predictions.