First impressions: Celtics 99, Blazers 95
December, 1, 2010
12/01/10
10:05
PM ET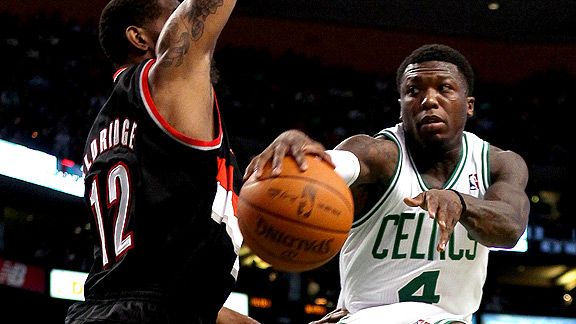 Elsa/Getty ImagesNate Robinson looks to dish against the Blazers Wednesday night at the TD Garden.
BOSTON -- First impressions after the
Boston Celtics
defeated the
Portland Trail Blazers
99-95 Wednesday night at the TD Garden:
HOW THE GAME WAS WON
Celtics captain
Paul Pierce
scored game-high 28 points on 9-of-11 shooting (connecting on 4-of-5 3-pointers), while
Rajon Rondo
posted another double-double (10 points, 10 assists) and
Kevin Garnett
chipped in 17 points and eight rebounds as Boston hung on for a gritty win. The Celtics overcame 17 turnovers that led to 21 points for the Blazers.
TURNING POINT
The Celtics were staring at a six-point deficit with 4:31 to play in the third quarter, but held Portland without a field goal the rest of the frame, the Blazers settling for four
LaMarcus Aldridge
free throws as Boston embarked on a 17-4 run to open their biggest lead of the night. Pierce highlighted the spurt with a pair of 3-pointers before Garnett hit a 19-foot fadeaway to close out the third quarter with Boston on top, 79-72. That proved to be just enough for Boston to hang on for victory.
STAT OF THE GAME
The Celtics, dominant in points in the paint during this recent winning streak, were actually outscored, 42-38, by the Blazers in the ink, but still found a way to shoot 57.1 percent (36 of 63) from the floor.
UNSUNG HERO
Guard
Ray Allen
labored all night, hitting just 3 of 12 shots for nine points. But, true to form, he saved a dagger of a 3-pointer for the final moments, putting a nail in the coffin by capping the scoring and putting the Blazers behind by two possessions with 10 ticks to go.
WHAT IT MEANS
The Celtics have now won five straight, even if this was hardly the prettiest. Boston committed 10 first-half turnovers leading to 14 points for the Blazers and
still
only trailed by a point at the intermission (49-48) and only because
Wesley Matthews
hit a quartet of 3-pointers, including one with 0.3 seconds to play in the second quarter. The Celtics were up by 16 with five minutes to go and still nearly let this one slip away. But, like a veteran team, they made the big plays when it mattered most.
PODCASTS
Buster Olney, ESPN.com
Play Podcast ESPN MLB Insider Buster Olney gives his thoughts on Mike Trout's cycle and compares Trout's production with Miguel Cabrera's. Olney also says Jacoby Ellsbury's lack of production is putting the Red Sox in a tough spot and explains why Cole Hamels' poor start isn't too much of a concern.
Terry Francona, Indians
Play Podcast Indians manager Terry Francona dishes on his return to baseball, joining Cleveland, Miguel Cabrera, his time with the Red Sox, MLB's usage of instant replay and more.
Adam Schefter, NFL
Play Podcast ESPN NFL Insider Adam Schefter covers Rob Gronkowski's latest forearm surgery, the possibility of a new league schedule, Super Bowls L and LI, Charles Woodson and more.