Celitcs guard Ray Allen hit only one of his six 3-pointer attempts against the Trail Blazers -- the one the Celtics needed most: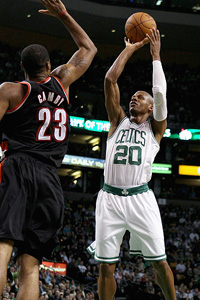 Elsa/Getty Images
Ray Allen missed five 3-point attempts Wednesday, but he hit the one that mattered most.
Even Boston Celtics captain Paul Pierce couldn't help but wonder what the Portland Trail Blazers were thinking when they left Ray Allen open for a late-game 3-pointer that sealed Boston's 99-95 triumph Wednesday night at the TD Garden.

"How can you leave Ray Allen -- one of the great shooters of all-time -- wide open like that?" asked Pierce, repeating something that's seemingly been heard numerous times since Allen arrived in Boston. "He'll hit that 99 percent of the time."

To be fair, Allen had been fairly dreadful to that point. The 15th-year veteran misfired on all but two of his first 11 shots, including all five 3-pointers he hoisted.

But everyone in the building knew that he was going to take a 3-pointer if he had a good look. Heck, Allen didn't have a good look and rushed an awful first attempt at a dagger 20 seconds earlier. Fortunately for Boston, Wesley Matthews -- whose fine shooting at the other end of the floor helped keep Portland in the game as the Blazers nearly rallied out of a 16-point, fourth-quarter hole over the final five minutes -- committed a loose-ball foul, allowing Boston to maintain possession.

The Blazers rolled the dice in a one-point game, attempting to trap Pierce as he dribbled down the clock. Sure, Pierce had the hot hand, connecting on 9 of 11 attempts, including 4 of 5 3-pointers, for a game-high 28 points. But the NBA's unwritten rulebook almost certainly includes a chapter about never leaving a shooter like Allen open in a clutch moment.

The Blazers did. Maybe it explains why the Celtics have won five straight and sit atop the Eastern Conference at 14-4, while Portland has dropped five in a row and stands at 8-10.
Click HERE to read the full story.
Celtics coach Doc Rivers earned the first Eastern Conference Coach of the Month honor of the season despite the obstacles his team has faced, writes Peter May: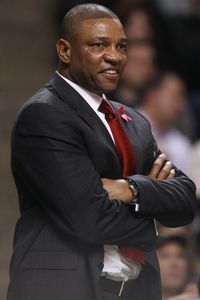 Elsa/Getty Images
Doc Rivers won his sixth Coach of the Month award with the Celtics when he was honored for the month of November.
Earlier in the day Wednesday, Boston Celtics coach Doc Rivers learned he had been named Coach of the Month in the Eastern Conference for the 30 days of November. He's now won six COM awards in Boston -- all other Celtics coaches, combined, have won four since the award originated for the 1982-83 season.

In the "Making My Day" department, the award probably came in a distant third to (a) beating the Portland Trail Blazers 99-95 and (b) being able to spend some quality time with son Jeremiah, in town with the Indiana Hoosiers. Come to think of it, the award probably dropped to fourth after Rivers' postgame repast. Maybe even fifth, depending on the dessert. (We won't go into the wine.)

The Celtics' victory Wednesday night showcased the team Rivers now has, and it is a spiffy 14-4. Or, as Shaquille O'Neal noted, "Even though we've lost four games, no one has beat us yet."

There's a grain of truth to that.

But there also is plenty of room for improvement. Mimicking their performance from Opening Night, the Celtics got a big lead and then went into fingernail-scraping mode down the stretch to pull out a game that had no business being that close.

"We won,'' Rivers said with a sigh. They had been up 16 with 5:10 left.

In the end, a guy who hadn't been able to make anything all night made the big basket off a pass from a guy who hadn't been able to miss all night.
Click HERE to read the full story.