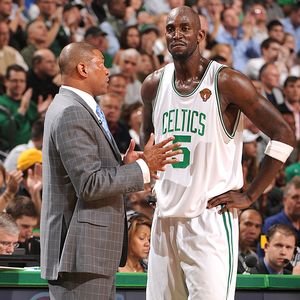 Andrew D. Bernstein/NBAE/Getty Images
Kevin Garnett delivered high praise for his coach after Wednesday's victory over the Blazers.For the second time in less than a month, Celtics coach Doc Rivers was forced to address speculation about his coaching future, including lingering reports that the Miami Heat would be interested in his services next season.
Appearing on Boston sports radio station WEEI Thursday, Rivers again defused speculation about taking his own talents to South Beach.
"I really don't have any thoughts about that," Rivers told the Dennis & Callahan program. "As far as I'm concerned, I'm a Celtic and I plan on being that for a long time. As long as I'm coaching."
Rivers, who is operating on a one-year contract, said he had no idea where the Miami rumors originated, or why they're back in the headlines, but also admitted he hasn't talked to the Celtics about his future on their bench yet, suggesting he plans to operate as he did last year and evaluate his plans with his family following the season.
"I can tell you I've given it zero thought," said Rivers. "I'm just doing my job."
When reports first indicated Miami's potential interest in Rivers last month, he immediately shot them down.
"I'm not getting into that," Rivers said following an October practice. "The only guy on [Heat president Pat Riley's] list is [current Miami coach] Erik [Spoelstra] and that's the only guy that should be there. I'm not going there. That's a stupid conversation, it really is."
During his radio interview, Rivers again noted how the Heat will eventually figure it out and will figure it out under Spoelstra. "Erik is going to make it work, there's no doubt about that," said Rivers.
On the day he was named Eastern Conference Coach of the Month, players were effusive in their praise of Rivers, with Kevin Garnett going so far as to suggest he might not be (or stay) in Boston if not for Rivers being this team's coach.
"I told [Celtics president of basketball operations] Danny [Ainge], the day y'all get rid of Doc, I'll tip my hat to the Boston area, the Boston fans. I love Doc. He's a credit to our success and the building of our players. He's always motivating, always pushing, always finding ways to get more out of you... I love him and I love him for that."
While Rivers credited his players for his coaching honor, Garnett said Boston's success wouldn't be possible without Rivers and his style of leadership.
"The No. 1 thing about Doc is that you know where he's coming from," said Garnett. "It's black and white, there's no gray area. It it is what is is. He's going to tell you straight up. At the same time, he's not here to beat you down. He's a very, very confident coach. He builds a lot of confidence in his players. At the same time, he can be difficult, he can be hard. And if you don't have the personality to sort of take it, then he comes off pretty hard. I love him."
Rivers said he simply keeps his players moving towards the same goal and their natural talents make everything else easy for him.
"[The Coach of the Month award] means that I'm lucky, that I have great players," said Rivers. "Really, that's all it is. I have a great group of guys and they pay attention to me half the time. Really, I just have a great group of guys.