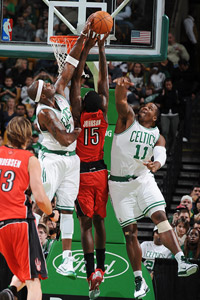 Steve Babineau/NBAE/Getty
Jermaine O'Neal and Glen Davis go up for the block against Toronto.Earlier this week we detailed Boston's surge in blocked shots, with the Celtics swatting 29 shots during this current five-game winning streak (including back-to-back games during the stretch with a season-high eight swats in each).
For a Boston team with only 71 total blocks this season, the recent uptick helped the Celtics claw their way to 27th in the NBA at 3.9 blocks per game (by comparison, the Knicks are tops in the NBA at 7.3 rejections per contest).
But Celtics coach Doc Rivers isn't exactly awed -- or even happy -- to see that number climb. Asked what might lead to recent surge, he suggested it might actually be poor on-the-ball defense being bailed out by good help defense.
"Guys getting beat off the dribble," Rivers said with a laugh. "That might be one of the [reasons]. [Shaquille O'Neal] is down there, Kevin [Garnett] is more athletic than last year. That has a little bit to do with it. The fact that Paul [Pierce] had three [vs. Cleveland], I don't know where that came from, but that was nice to see."
Rivers said blocked shots might be the last column he examines on the stat sheet.
"I'm not a big [blocks guy], I don't really look at blocked shots much at all," said Rivers. "It's kind of a fool's gold stat. It really does mean [the opposition] is in the paint an awful lot. That's probably not a good thing."
The good news for Boston there is that they rank fourth in the NBA with opponents blocking a mere 3.9 shots per game. Considering that Boston has lived in the paint this season -- evidenced by their domination in points in the paint this season -- it means the Celtics are avoiding getting good looks around the hoop.