Big Three checkpoint
December, 2, 2010
12/02/10
5:35
PM ET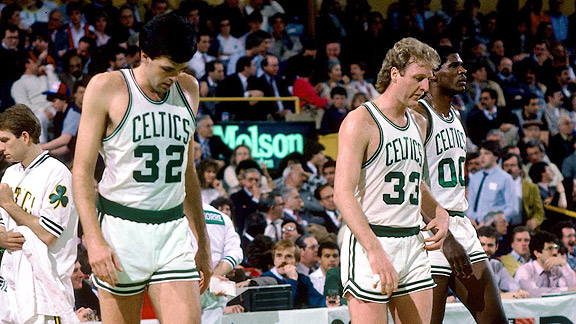 Dick Raphael/NBAE/Getty ImagesWinning 150 out of 200 games? Not bad. But the old Big Three did better.
Boston's new Big Three of
Ray Allen
,
Kevin Garnett
, and
Paul Pierce
played their 200th game together Wednesday, improving their overall record to 150-50 during that span with a win over the Blazers. Not too shabby. But the original Big Three of Larry Bird, Kevin McHale, and Robert Paris still hold an edge. According to ESPN researchers, that trio posted a 153-47 mark during their first 200 games together from 1980-83.
To be fair, it's a push when it comes to world titles: One apiece.
Asked about the success of the new Big Three after Wednesday's win, Garnett heaped all the praise on coach Doc Rivers for allowing the three superstars to be themselves. Rivers tossed all the play to the Big Three, noting, "They just want to win. We talk about it every day. I think that's the whole key. I have a competitive group of guys, it's in them."
PODCASTS
Larry Lucchino, Red Sox
Play Podcast Red Sox president and CEO Larry Lucchino discusses his team's response to the Boston Marathon bombings, how the city bounced back from the tragedy and more.
Donnie Wahlberg, Actor
Play Podcast Actor Donnie Wahlberg talks about this year's Patriots' Day, his experience involving last year's Boston Marathon, security presence in the city and more.
Martin J. Walsh, Boston
Play Podcast Boston Mayor Martin J. Walsh comments on how this Patriots' Day differs from those in the past, securing the marathon, the role sports plays in the city and more.