Clockwork for Ray
December, 3, 2010
12/03/10
8:25
AM ET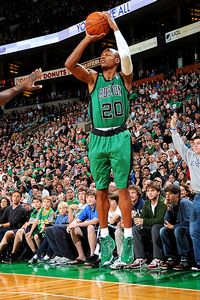 Brian Babineau/NBAE/GettyCeltics guard Ray Allen is still thriving -- and logging big minutes -- at the age of 35.
Celtics guard
Ray Allen
turned 35 this offseason, but shows no signs of fading like others have when they reached his age.
Due in part to injuries, Allen is averaging 37.1 minutes per game this year, the most since his final season in Seattle, where he averaged a whopping 40.3 minutes per game over 55 appearances during the 2006-07 season. In fact, that 37.1 minutes per game matches Allen's 15-year career average, and speaks volumes about the on-court role he's playing for the Green this season (by comparison, Shaquille O'Neal, at age 38, is playing 23 minutes per game, some 12.1 minutes less than his career average of 35.1).
If Allen's minutes remain high moving forward, he'll land in the select company of star players that logged heavy court time after the age of 35. Courtesy of ESPN researchers, check out that list below (with age at the start of that season -- in years and days -- and the average minutes that player logged that season):
1972-73 - Wilt Chamberlain, LAL - 36 years, 50 days - 43.2 minutes per game
1971-72 - Chamberlain, LAL - 35-52 - 42.3
1969-70 - Elgin Baylor, LAL - 35-28 - 41
2000-01 - Reggie Miller, IND - 35-68 - 39.3
2001-02 - Karl Malone, UTAH - 38-98 - 38
1998-99 - Malone, UTAH - 35-196 - 37.4
2010-11 - Ray Allen, BOS - 35-98 - 37.1
1981-82 - Elvin Hayes, HOU - 35-347 - 37
PODCASTS
Buster Olney, ESPN.com
Play Podcast ESPN MLB Insider Buster Olney gives his thoughts on Mike Trout's cycle and compares Trout's production with Miguel Cabrera's. Olney also says Jacoby Ellsbury's lack of production is putting the Red Sox in a tough spot and explains why Cole Hamels' poor start isn't too much of a concern.
Terry Francona, Indians
Play Podcast Indians manager Terry Francona dishes on his return to baseball, joining Cleveland, Miguel Cabrera, his time with the Red Sox, MLB's usage of instant replay and more.
Adam Schefter, NFL
Play Podcast ESPN NFL Insider Adam Schefter covers Rob Gronkowski's latest forearm surgery, the possibility of a new league schedule, Super Bowls L and LI, Charles Woodson and more.