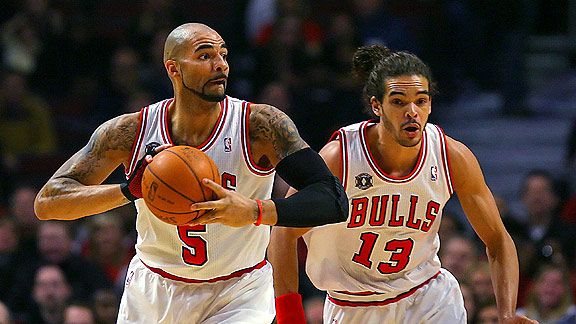 Dennis Wierzbicki/US Presswire
The Bulls will have Carlos Boozer in tow when they visit the Garden Friday.For the fourth consecutive season, the Celtics are off to a fast start at 14-4 overall. But if you believe what Shaquille O'Neal and Glen Davis have said recently, Boston should be undefeated. Many in the Celtics locker room truly feel like no team has beaten them; Boston simply beat itself in those four defeats.
And while it's way too early to start dreaming about the playoffs, consider this nugget from ESPN researchers: Heading into Thursday's action, the Celtics boasted the second-easiest remaining schedule in the NBA with their opponent's combined winning percentage currently at 47 percent.
The one team in front of them? The Chicago Bulls (46.9 percent), who visit the TD Garden Friday night (ESPN, 8 ET) for another early season showdown of two teams that could find themselves near the top of the Eastern Conference by season's end.
The Bulls rallied to force overtime in their first visit to Boston last month, but Kevin Garnett forced Joakim Noah to commit a turnover late in the extra session allowing the Celtics to escape with a 110-105 triumph.
With the hoopla surrounding the return of both Tom Thibodeau and Brian Scalabrine having played out last visit, the focus Friday will be on two conference powers slugging it out. That's where we start his week's 'bag.
Click HERE to read this week's Celtics Mailbag.