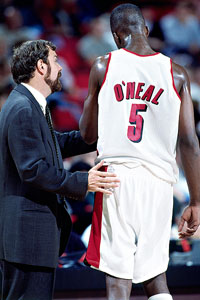 Andy Hayt/NBAE/Getty Images
Jermaine O'Neal's debut is one he'll never forget ... because he forgot his jersey.Sunday marked the 14th anniversary of Jermaine O'Neal's NBA debut. Reminded of the occasion following Boston's triumph over the New Jersey Nets, O'Neal smiled and instantly recalled the opponent (Denver Nuggets). He said his daughter, Asjia, had asked him recently about his debut and it's one he won't forget, because it's a game he forgot his jersey.
"I got in there at end of the game, but I think [Blazers coach P.J. Carlesimo] tried to put me in before and I went to go check in and did this," said O'Neal, demonstrating how he looked down under his warm-up shirt before pulling it off only to find no jersey.
"It's an emotional moment for me, this is my debut and awwwwwww," O'Neal said with a big sigh. "So I had to go back to the bench. I walked back and the equipment guy went to the locker room and got [the jersey] for me."
O'Neal eventually played three minutes and hit the only shot he took. In the process, he became the youngest player to ever participate in an NBA game, less than two months after his 18th birthday (Andrew Bynum has since debuted at a younger age).
Now, at age 32, O'Neal is eager for his next run to the scorer's table, a journey that took a big step Monday as he resumed on-court basketball workouts at Boston's practice facility in Waltham. For more on O'Neal's recovery process, check out Sunday's Celtics postgame notebook.