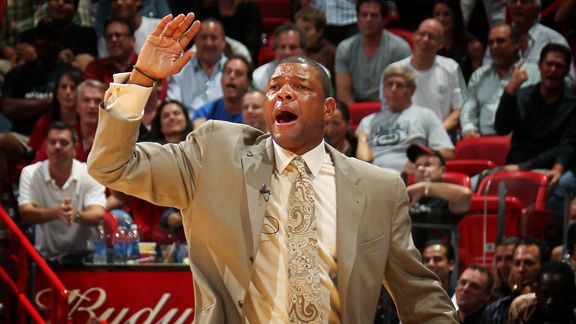 Victor Baldizon/NBAE/Getty Images
Celtics coach Doc Rivers has Boston off to another fast start.Stop us if this sounds familiar -- the Celtics are off to one of the best starts in the NBA through 20 games. Can they keep it up? Peter May examines:
WALTHAM, Mass. -- We have all been here before.

There is a definite sense of déjà vu with these Celtics and their shot-from-guns start. It's become the norm here over the past four years.

Twenty games into the season, Doc Rivers' crew has an 80 percent winning mark. No team in the East has a better record and only one team in the West (San Antonio) has a superior mark. The Celtics are slowly, but steadily, becoming the defensive juggernaut they aspire to be. They have continued to win despite myriad injuries.

This has been the trend and, frankly, the mission of the Celtics in the era of the New Big Three. We're on Year No. 4 now and one thing in common about all four seasons has been the team's rocket-like break from the opening gate.

This year, they are 16-4 after 20 games and, as Shaquille O'Neal reminded everyone last week, they haven't really been beaten by anyone yet. They've won 16 and thrown away four, including a pair to a couple of undesirables (Cleveland, Toronto). They've won nine of 10 at home, the best home record in the conference and second-best in the NBA (behind Denver's 10-1.) They take a seven-game winning streak into Wednesday's game against the Nuggets, who had won seven in a row going into Tuesday night's game in Charlotte.
Click HERE to read the full story.