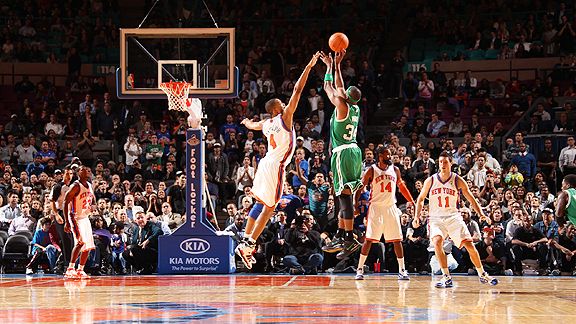 Nathaniel S. Butler/NBAE/Getty Images
The last time the Celtics and Knicks met, Paul Pierce hit this jumper for a preseason win.WALTHAM, Mass. -- OK, so it might not be a rivalry again, quite yet, but the Celtics did admit that Wednesday's game would provide a nice challenge considering how well the surging Knicks are playing.
In fact, Boston players and coaches heaped praise all over the New York roster before Tuesday's practice at the Sports Authority Training Center at HealthPoint.
"They're playing with a lot more confidence, it usually goes that way when you win a few games because you start feeling good about yourself," said Celtics captain Paul Pierce. "Guys are really playing well and Amare Stoudemire has really stepped up his game, become a true leader of that ball club, along with Raymond Felton."
While much of the focus fell on Stoudemire's recent offensive eruptions, Celtics coach Doc Rivers noted that one player can't carry a team to eight straight wins.
"There's a lot of guys that go under the radar," said Rivers. "They are winning because they are all playing well. They're not winning because Stoudemire is playing well, they're winning because Stoudemire's teammates are playing well, with Stoudemire. Felton, he's a point guard who wants to score, an aggressive scoring point guard, but he's getting everyone involved in the scoring, too, and that' what makes him so good right now."
Rivers saved some of his loftiest praise for rookie Landry Fields.
"He's terrific," said Rivers. "I had no idea that he was going to be this, but he's been terrific for them. He does so many of the little things, and it's weird to find that in a rookie. They have him guarding the best guard -- he'll probably guard [Rajon] Rondo -- and he does so many little things for their team -- the rebounding, defensive assignments, running the floor, and he enjoys it. You don't see that very often from young players."