Why it's not a rivalry
December, 15, 2010
12/15/10
2:00
PM ET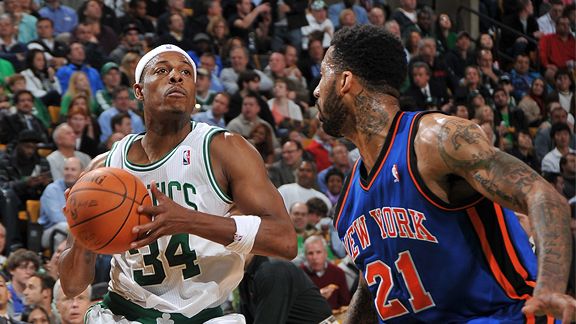 Brian Babineau/NBAE/Getty ImagesWhy doesn't Paul Pierce consider the Knicks a rival? The numbers tell the story.
Why were the
Boston Celtics
so quick to dismiss the rivalry chatter in advance of Wednesday's game against the
New York Knicks
. ESPN researchers help provide the answer:
* The Celtics have won five of the last six, 13 of the last 15, and 21 of the last 26 meetings against the Knicks.
* In the new Big Three era, the Celtics are 11-2 against the Knicks. In their 11 wins, the Celtics have outscored the Knicks by 12.3 points per game.
* The Celtics and Knicks are in the same division with the current alignment in place since the 2004-05 season, when the Bobcats joined the NBA. In that time, the Celtics have won the division four times. The Knicks have never finished higher than third in the five-team division. Here's a closer look:
2009-10 -- Celtics 1st; Knicks 3rd (21 games behind)
2008-09 -- Celtics 1st; Knicks 5th (30 games behind)
2007-08 -- Celtics 1st; Knicks 5th (43 games behind)
2006-07 -- Celtics 5th; Knicks 4th (9 games ahead)
2005-06 -- Celtics 3rd; Knicks 5th (10 games behind)
2004-05 -- Celtics 1st; Knicks 4th (12 games behind)
Over the previous nine seasons, the Celtics have made the playoffs seven times. They've reached the NBA Finals twice. In that same period, the Knicks have one playoff appearance and were swept in the first round. A closer look:
Playoff appearances -- Celtics 7; Knicks 1
Series wins -- Celtics 11; Knicks 0
Finals appearances -- Celtics 2; Knicks 0
Titles won -- Celtics 1; Knicks 0
PODCASTS
Bill Simmons, NBA
Play Podcast Grantland's Bill Simmons discusses the state of the Lakers, Phil Jackson's future, the perception of Rajon Rondo, Doc Rivers' impact on the Clippers and more.
Baseball Tonight
Play Podcast Buster Olney chats with Jayson Stark about Ken Griffey Jr.'s uncomfortable interview with Linda Cohn and the value of spring training. Plus, Mike DiGiovanna on the Angels and Derrick Goold on Matt Carpenter's negotiations with the Cardinals.
John Farrell, Red Sox
Play Podcast Red Sox manager John Farrell talks about whether he expected his team to make such a turnaround in one season, his relationship with his players, fans' expectations for the squad and more.