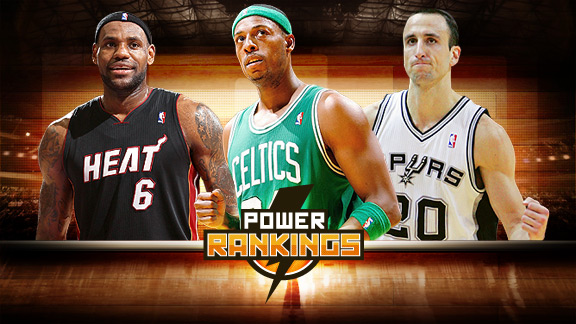 ESPN Illustration
Oh, what fun it is to ride a long winning streak!Riding a 13-game winning streak, the Celtics are finally the undisputed power rankings champion of the world, sitting atop three key polls, including ESPN.com's NBA power rankings, where the Green have (finally) usurped the Dallas Mavericks.
Writes curator Marc Stein: "Boston, naturally, is your new No. 1 in ESPN.com's weekly NBA Power Rankings, thanks to Dallas' home loss to Milwaukee last Monday and a 13-game Celtics winning streak that should hit 14 by the time they visit the overhauled team that swung those two big Saturday deals in Orlando on Christmas Day.... KG's resurrection. Pierce's clutchness and versatility. Overcoming every injury. The Celts are overloading us, since we also can't stop repeating Barkley's priceless Rondo line: "He's the engine that stirs the drink."
In John Hollinger's computerized daily power rankings, the Celtics are clinging to a small lead over the likewise streaking Miami Heat, but a better strength of schedule keeps the Green out front.
Over at NBA.com, Boston remains on top, fending off the Spurs, Lakers, and Heat. Writes curator John Schuhmann: "This sounds weird, but the Celtics, the second-best defensive team in the league, have been rather inconsistent defensively during their 13-game winning streak. They've needed big nights on the other end to pull out some of these wins, with Wednesday's thriller in New York the prime example."
One other note, if you want some goosebumps, the Celtics were sitting in the same lofty spot in NBA.com's power rankings a year ago before stumbling right before Christmas against the same team they'll play this Wednesday night. Wrote Schuhmann at the time: "The Celtics looked like they were going to cruise into their Christmas game in Orlando with a 14-game winning streak, but they fell asleep in the second half on Friday's against the Sixers. Philly shot just 40 percent, but had 23 second-chance points."
Those who can't remember the past are condemned to repeat it. Given Boston's dinged-up frontcourt, the Celtics could be playing without key bigs Wednesday against the upstart 76ers (still smarting from that Rondo-to-KG lob earlier this month in Philly). Keep an eye on that second-chance point total and let's see if Boston can truly carry a 14-game winning streak into Christmas this year.