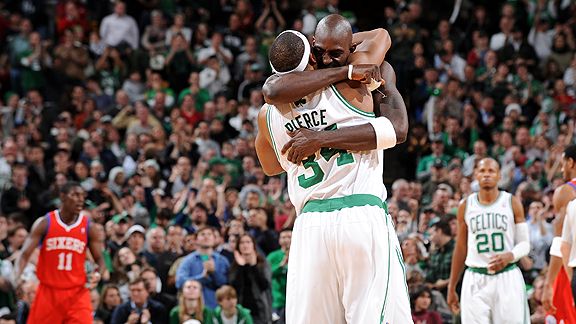 Brian Babineau/NBAE/Getty Images
The Celtics are enjoying the wins, but don't care about any sort of streak.BOSTON -- Despite cobbling together an league-leading 14-game winning streak in the face of a head-shaking amount of early-season injuries, the Boston Celtics have taken little joy in what they've put together over the first two months of the NBA season.
Maybe it's because they know it can all disappear so quickly.
The Celtics flew to Orlando on Thursday morning in advance of Saturday's Christmas showdown against the Magic with cautious optimism packed beside the presents being lugged 1,000 miles from home. There's satisfaction in what they've been able to accomplish, particularly without key players, but Boston also remembers full well how, at this very moment last season, the wheels started to come off.
The Celtics had made the holiday trek to Orlando last year without Paul Pierce, who had developed an infection in his right knee that needed to be flushed (including once on Christmas Day as his teammates topped the Magic to improve to 23-5 overall). It was the first of a cocktail of injuries Pierce would endure, and the first of a spate of maladies the Celtics battled over the next four months.
Boston lost its first three games after Christmas, 11 of its next 17 overall and ultimately played .500 basketball over the final 54 games of the regular season. Two games after Christmas, Kevin Garnett got kicked in his surgically repaired right knee and looked hobbled again until the playoffs arrived, when Boston surged despite being an unheralded fourth seed.
Given the injuries they've already battled this season, the Celtics know how delicate NBA success can be. They've stockpiled wins like squirrels collecting nuts before winter arrives.
Celtics coach Doc Rivers suggested after Wednesday's latest eyesore of a win over the Philadelphia 76ers that he's not concerned about a similar slide because his team is "healthy." What he means is that Boston's Big Three of Pierce, Garnett, and Ray Allen are healthy, and that's been enough to carry the Celtics even as Rajon Rondo (ankle), Shaquille O'Neal (calf), Jermaine O'Neal (knee), Delonte West (wrist) and Kendrick Perkins (knee) have all missed extended time due to injury.
"The only reason we went on a slide -- and no one wanted to hear that last year during the whole stretch -- was that we had the whole team hurt," Rivers said. "It's not like we started playing bad. We started playing injured and we never really got healthy, completely. Then we made the conscious choice to shut bodies down.
"If we can get healthy, we're not concerned by [another potential slide]. If we can't, we're always concerned."
Click HERE to read the full story.