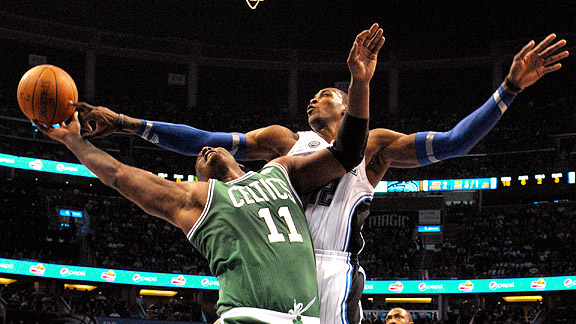 AP Photo/Phelan M. Ebenhack
Dwight Howard and the Magic swatted Boston's 14-game winning streak.First impressions from afar after the Orlando Magic defeated the Boston Celtics 86-78 in a Christmas Day showdown Saturday afternoon at the Amway Center:
HOW THE GAME WAS WON
Despite thoroughly outplaying the Magic for roughly 40 minutes in the middle of Saturday's game, the Celtics snoozed out of the gate (Orlando scoring the game's first 13 points) and at the finish line (Orlando outscoring Boston, 15-1, to close out the game). Brandon Bass scored a team-high 21 points on 8-of-15 shooting with nine rebounds for Orlando, while recently reacquired Hedo Turkoglu added 16 points with a whopping plus-30 in the plus/minus category for the Magic. Kevin Garnett paced Boston with 22 points on 10-of-14 shooting, while Paul Pierce chipped in 18 points, struggling from the floor (6-of-14), but adding eight rebounds and five assists over 40 minutes.
TURNING POINT
The Celtics boasted a 77-71 advantage with 3:20 to go, but Boston's offense disappeared, settling for a mere free throw from Garnett, while missing its final seven shots from the floor. Orlando surged with 2:30 to go, Jameer Nelson lighting the fuse with a 3-pointer before Bass tied the game with a 14-foot jumper. Nelson's go-ahead 3-pointer put the Magic out front to stay, 80-77, with 1:19 to play.
STAT OF THE GAME
The Celtics limited Dwight Howard to 1-of-4 shooting and a mere six points over 33 minutes. Howard also missed six free throws (4 of 10 at the stripe) and was harrased all day. Even still, he made 3 of 4 freebies over the final 3:38 to aid Orlando's late rally.
UNSUNG HERO
Orlando's J.J. Redick quietly nagged at Boston yet again, connecting on 4-of-7 shots (including a pair of 3-pointers) for 11 points over 30 quality minutes. He finished plus-5 in the plus/minus, the only Orlando bench player in the positive.
WHAT IT MEANS
The Celtics watched their 14-game winning streak end and, while this was a winnable game, their lapses at the start and finish sealed their fate. This is the first game that Boston really missed point guard Rajon Rondo, shooting a mere 39.4 percent from the floor. The defense was stout as usual, limiting Orlando to 34.6 percent shooting overall, but couldn't withstand the offensive drought over the final 3:30.