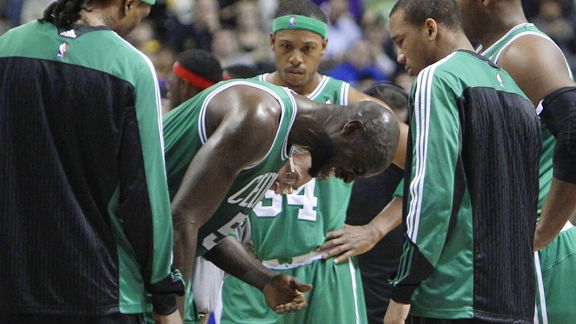 AP Photo/Paul Sancya
Kevin Garnett's injury might not be as severe as it appeared Wednesday.Celtics coach Doc Rivers told reporters after Wednesday's game that he's "not that concerned" about Kevin Garnett's lower leg injury, describing it as a muscle ailment that will sideline him, but maybe not for as long as might have been expected at first glance.
Garnett departed Wednesday's tilt with the Pistons with what the team termed a right "lower leg injury," but Rivers seemed to indicate it wasn't the surgically repaired knee and might instead be a muscle issue around Garnett's right calf.
"I don't think it's bad," said Rivers. "I'm not that concerned. He's going to miss games probably -- I don't know how many -- but I don't think it'll be that long. Listen, it happens."
Like his players, Rivers did think the worst when the injury first occurred.
"The way he did it, I thought the knee or Achilles," said Rivers. "You've heard me say it before, an injury when no one is around, that's usually a severe one. I was thinking it was a bad one, but let's hope not. I don't think it is, but we'll find out later."
Rivers didn't get specific, but did note that the injury was pretty clear cut when trainer Eddie Lacerte briefed him at halftime. Rivers said his team can win games without Garnett, but admitted he's irreplaceable on the defensive end, evidenced on a night when the Celtics gave up 104 points to the Pistons and lost for the second time on a three-game holiday road trip.