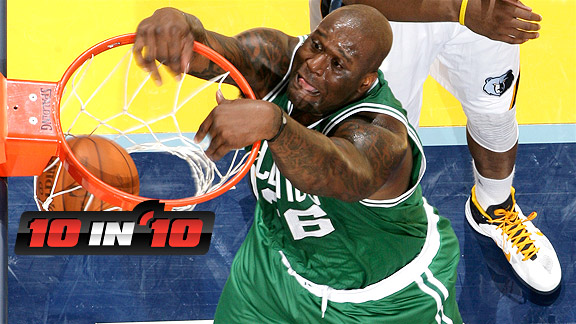 Joe Murphy/NBAE/Getty Images
The addition of Shaquille O'Neal is on our list of top 10 Celtics stories of '10.As the 2010 calendar year draws to a close, we take a look at the Boston Celtics' 10 most memorable moments over the past 365 days:
10. Pierce joins 20,000 club (Nov. 3) -- Three of his teammates were already at the milestone, but Celtics captain Paul Pierce joined exclusive company when he became the 36th player in NBA history to reach the 20,000-point plateau during Boston's 105-102 overtime triumph over the Milwaukee Bucks. He became only the third Celtic to reach the plateau in one uniform, joining Larry Bird and John Havlicek. Pierce, ever mindful of the approaching moment, raised both arms as the crowd roared in recognition following a milestone free throw with 13.3 seconds remaining in the extra session. "Players know,'' said Pierce, who ended up with 28 points in the win. "Whether they admit it or not is another thing. But they know."
9. Thibs named coach of Bulls (June 6) -- With the Celtics preparing for Game 2 of the NBA Finals, word trickled out that top assistant Tom Thibodeau had landed his first head-coaching job with the Chicago Bulls. Thibodeau, regarded as the defensive architect of Boston's 2008 title team, spent 18 years as an NBA assistant, including three years with the Celtics. "Tom's a workaholic," said Pierce. "I'm always catching him in there working, watching film in his office. He's probably the most prepared coach I've ever seen."
Click HERE to read the full list.