Ainge: No need for 'Sheed
December, 30, 2010
12/30/10
8:15
PM ET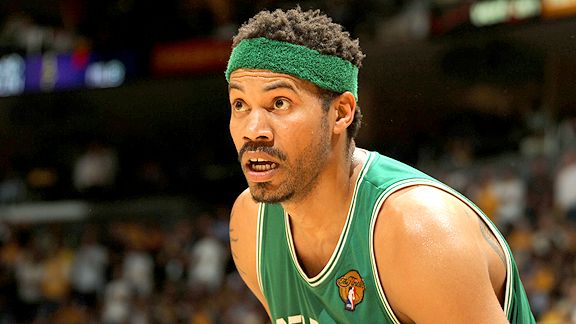 Nathaniel S Butler/NBAE/Getty ImagesAnother tour in Boston for Rasheed Wallace? Players wouldn't be opposed.
A Celtics frontcourt player isn't truly injured until
Rasheed Wallace
's name is brought into the conversation as a possible replacement. During his call-in to Boston sports radio station WEEI (850 AM) on Thursday, Celtics president of basketball operations Danny Ainge was asked about potentially adding Wallace to the roster (this despite the fact that
Kevin Garnett
is pegged to miss just two weeks and, more importantly, that the Celtics opened their wallets this offseason to send Wallace into retirement in August, securing a buyout of the two years remaining on a three-year deal he inked with Boston before the 2009-10 season).
Ainge didn't discount the possibility, but also didn't see an opening for Wallace.
"I don't know, I know that he's been in our locker room a few of times this year and he's been to a couple of practices," said Ainge. "I know the guys are teasing him about that -- about coming back. He's said that he doesn't want to come back.
"I'm not sure there's room for Rasheed, unless we just have a whole bunch of injuries. Right now our center position, we have three healthy centers, we have a fourth one that's not too far away in [
Kendrick Perkins
]. Right now, I'm more concerned about our backcourt with Delonte [West] and Rajon down, and Nate [Robinson] not quite 100 percent. Again, with [heightened minutes for
Ray Allen
and
Paul Pierce
], we need Avery [Bradley] and Von [Wafer] and Luke [Harangody] to step up and contribute."
Pressed on if the injury to Garnett was more severe, would he put more consideration into Wallace, Ainge noted, "I don't see him at the same position as KG."
Wallace doesn't help speculation by showing up at Celtics events like Boston's open practice for season-ticket holders in late October. Alas, his potential late-season addition is a question every Celtics reporter is constantly bombarded with as fans seem willing to forget his struggles to get last year's band back together for another title run.
PODCASTS
Adam Schefter, NFL
Play Podcast ESPN NFL Insider Adam Schefter covers Rob Gronkowski's latest forearm surgery, the possibility of a new league schedule, Super Bowls L and LI, Charles Woodson and more.
Barry Melrose, NHL
Play Podcast ESPN NHL analyst Barry Melrose talks about big wins for the Bruins and Sharks on Thursday night and compares the end of Wayne Gretzky's career to the end of Michael Jordan's career.
Broussard And Virk On Another Gronkowski Surgery
Play Podcast Adnan Virk and Chris Broussard discuss another surgery on Rob Gronkowski's broken forearm and wonder if Gronkowski's inability to heal from this injury is a red flag for the rest of Gronkowski's career.