The Celtics rank fifth in the NBA in defensive rebound percentage (the total percentage of available defensive rebounds snared) at 76 percent (only Orlando, New Orleans, Milwaukee, and Cleveland are better). But how has the absence of Kevin Garnett affected them on the defensive glass? Here's a glimpse at Boston's defensive rebounding percentage the last three games, including their top defensive rebounder in each game: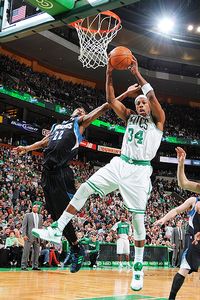 Steve Babineau/NBAE/Getty
Paul Pierce hauls in a rebound during Monday's win over the Timberwolves.Jan. 3 vs. Minnesota - 23 of 36 (63.9 percent)
--Top rebounder: Von Wafer 5 of 16 (31.3 percent)
Jan. 2 vs. Toronto - 35 of 54 (64.8 percent)
--Top rebounder: Paul Pierce 7 of 43 (16.3 percent)
Dec. 31 vs. New Orleans - 30 of 41 (73.2 percent)
--Top rebounder: Pierce 7 of 28 (25 percent)
That's a total of 88 of 131 available rebounds (67.2 percent). If maintained, Boston would be dead last in the NBA (the Golden State Warriors haul in a league-worst 68.8 percent of available defensive rebounds.) By comparison, the Celtics grabbed 34 of 44 available defensive boards against Indiana in Garnett's last game before injury with Garnett hauling in 12 of those (of 31 available to him, 38.7 percent).
Garnett is fifth in the league in defensive rebound percent (30.5), rivaling his numbers from when he led the league in that category four times before joining the Celtics. The next names on Boston's stat sheet this season? Shaquille O'Neal at 21.6 percent (but remember that he's only on the floor less than 1/2 of the game, averaging 21.5 minutes per contest) and Luke Harangody (20.4 percent, though he's played sparingly before Garnett's injury).
Glen Davis is fourth on the team at 17.3 percent. In Monday's win over the Minnesota Timberwolves, Davis hauled in only one of 20 available defensive rebounds. To be fair, Celtics coach Doc Rivers instructed Davis to simply worry about putting a body on Kevin Love (who still managed to attract a ridiculous 19 of 38 available rebounds) and Davis spent most of his night engaging in what amounted to a tractor push.
As the stats from the past three games suggest, Pierce is making a more concerted effort on the glass, just another way he's picking up the slack for an injured teammate. But the Celtics need to get more out of their bigs if they're going to keep their heads above water during this Garnett-less stretch.