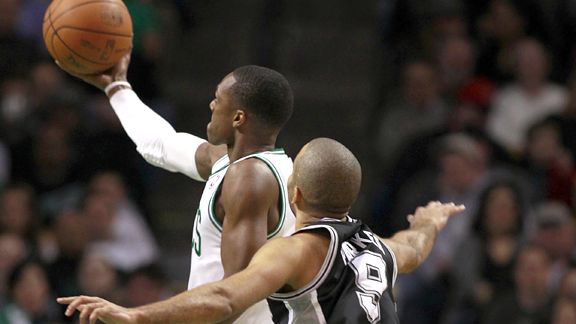 Greg M. Cooper/US Presswire
Rajon Rondo drives to the basket Wednesday night against the Spurs.BOSTON -- Rapid reaction after the Boston Celtics defeated the San Antonio Spurs 105-103 on Wednesday night at TD Garden:
HOW THE GAME WAS WON
Ray Allen poured in a game-high 31 points on 13-of-16 shooting, adding six assists and two rebounds over 39 minutes. About the only thing he did wrong was miss two free throws in the final seconds, forcing Boston to rely on Paul Pierce's clinching block of Manu Ginobili to lock up the win. Rajon Rondo registered another ridiculous triple-double with 12 points, 10 rebounds and 22 assists over 43 minutes. Ginobili paced San Antonio with 24 points.
TURNING POINT
The Celtics were down three with a little more than three minutes to go in the third quarter before embarking on a Rondo-fueled run. He assisted on a pair of triples by Pierce and Allen, then converted a driving layup. Nate Robinson's steal and feed to Pierce for a breakaway slam nearly tore the roof off the Garden, putting Boston in front 77-70. The only negative: Boston endured a 24-second violation trying to generate another bucket before the end of the quarter, and George Hill made a 21-foot buzzer-beater to take away some of the momentum heading to the fourth period. ... With the game tied at 96 in the fourth, Marquis Daniels converted a layup, Allen drilled a 3-pointer and Rondo made a 7-foot jumper as Boston pulled away (then nearly fumbled away the game late).
STAT OF THE GAME
The Celtics shot a sizzling 70.6 percent in the third quarter (12-of-17) with Rondo handing out nine assists in the frame (all but one of the buckets came with an assist). Allen was the biggest beneficiary, making all four shots he took for nine points, while Pierce (3-of-4, 9 points) and Glen Davis (4-of-6, 8 points) got in on the action, too.
UNSUNG HERO
Slightly masked by the efforts of Allen and Rondo, Davis quietly approached his regular-season scoring high (24 points versus Memphis on March 21, 2009). He connected on 10 of 18 shots for 23 points over 34 minutes.
WHAT IT MEANS
A battle of the two teams with the best records in the NBA, this one lived up to the hype with a playoff-like atmosphere. The Garden crowd spent much of the second half on its feet (particularly at the end of the third and fourth quarters). The Celtics have won three in a row to start a busy week after pulling out a huge win without Kevin Garnett.