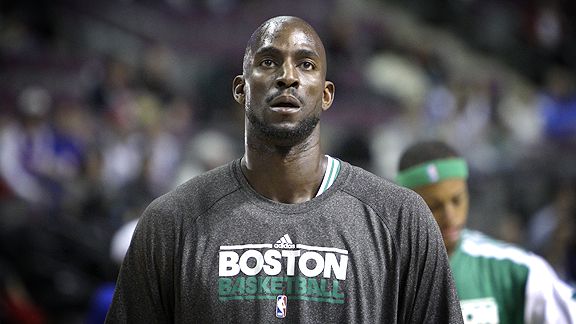 AP Photo/Paul Sancya
The Celtics could use Kevin Garnett, but they don't need him at the risk of injury.The Boston Celtics would be wise to wait on injured Kevin Garnett, writes Peter May:
The Celtics host the Sacramento Kings on Wednesday, weather permitting. Celtics coach Doc Rivers said Tuesday after practice that Garnett, who hasn't played in two weeks because of a strained calf, probably would not play. But Rivers wouldn't rule out a return totally. "I don't think he's ready yet," Rivers said. "He could play. I don't think he will. There's a chance." But he probably won't and, frankly, I hope he doesn't. I'm with Doc on this one. I don't want to see KG back on the floor until he is completely healthy. I don't care what the Miami Heat are doing (and neither, says Rivers, does he). I don't care what the Orlando Magic are doing (and neither, says Rivers, does he, although he reminded everyone that he does live in Orlando). I don't want to see Garnett back on the floor until he is 100 percent ready.
Click HERE to read the full story.
Tuesday's content archive
--PRACTICE NOTES: KG, PERK STILL IN HOLDING PATTERN--
Celtics coach Doc Rivers held Kevin Garnett out of Tuesday's contact-filled practice session and said Garnett is doubtful for Wednesday's game against the Sacramento Kings. "I doubt he'll play tomorrow," said Rivers. "Again, there's a chance, but I doubt it... Celtics center Kendrick Perkins hoped to resume full-contact, full-team exercises Tuesday, but said that plan has been delayed a week as team physician Dr. Brian McKeon suggested giving his surgically repaired right knee an extra week to heal.
--PAYNE: YOUTUBE, RICE BUCKETS IN D-WEST'S REHAB--
One day after resuming on-court basketball activities, Delonte West on Tuesday detailed his somewhat peculiar off-court rehabilitation activities for a fractured right wrist: Karate videos on YouTube and buckets of rice. "I've been looking at like Karate masters and stuff on YouTube and honestly they teach learning how to fall -- tuck and roll and all that, and jump up and Judo kick," West enthusiastically told reporters. "So I don't plan on breaking anything anytime soon, so cameramen on the baseline, watch out for the Judo kick."
--POWER RANKINGS: CELTICS DIP TO NO. 4--
The Celtics dipped to No. 4 in ESPN.com's weekly NBA power rankings, now sitting behind the Heat, Spurs, and Magic in Week 11's poll released Monday. Writes curator Marc Stein: "Question of the week courtesy of Magic GM Otis Smith: Isn't it possible that the Celts -- not Orlando -- are the ones with matchup issues (with Perkins out) and overloaded on bigs because Dwight is harder to counter?"
Video Vault
Click HERE to see all the video from Tuesday's practice.
Tweet of the Night