BOSTON -- A collection of postgame news and notes after the Boston Celtics defeated the Detroit Pistons 86-82 Wednesday night at TD Garden, with a focus on injuries to Jermaine O'Neal, Delonte West and Marquis Daniels:
--J.O'NEAL (KNEE) OUT FOUR WEEKS, AVOIDS SURGERY--
Celtics center Jermaine O'Neal, who has missed 23 games this season with soreness in his left knee, will sit out the next four weeks while he rehabs and strengthens the knee in hopes of rejoining the team for a playoff push, according to president of basketball operations Danny Ainge.
After seeking a second opinion in New York earlier this week, O'Neal, Ainge and members of the Celtics' medical staff met during Wednesday's game against the Detroit Pistons to map out his future. Ainge said surgery had the potential to sideline O'Neal for as little as eight weeks, but O'Neal ultimately elected to avoid going under the knife.
"We had a discussion at halftime, Jermaine, myself and our medical staff, and have decided that we are not doing surgery," Ainge said. "The surgery that we were considering, by the way, was just a cleaning out. There's not ligament or cartilage damage that was going to be prepared, it was a cleaning-out process. We decided against that, we'll take the next four weeks to do nothing but work to build up his glutes and quads, with the sole purpose of that. So he'll be rehabbing to build strength in his leg to get ready for the end of the season.
"Jermaine had a lot to do with the decision, and [team physician] Dr. [Brian] McKeon was fine with it. It's not an easy decision, and I think that Jermaine feels like he overdid it. He's got some bruising from the bone-on-bone he has in his knee. He just needs to let that calm down, then build up the strength in it."
O'Neal had missed 19 games in a row before returning on Christmas Day. He played well during a 10-game stretch before the knee became sore and eventually swelled, forcing him out of action again earlier this month.
O'Neal departed the arena before reporters were allowed in the team's locker room following Boston's 86-82 triumph over Detroit.
Ainge expressed optimism that O'Neal could strengthen the knee enough to hold up over the final three months of the regular season and beyond.
"I think Jermaine has a plan to get himself in great shape and build the strength up so he'll be able to withstand the rigors of playing the last couple months of basketball," said Ainge, who also suggested there would be no restrictions once O'Neal worked himself into shape.
Hop HERE to read more on O'Neal's decision to avoid surgery.
--WEST (WRIST) CLEARED TO DRIBBLE, CATCH--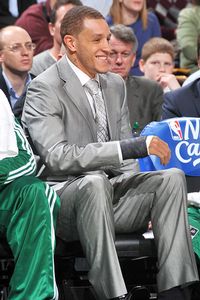 Brian Babineau/NBAE/Getty
Delonte West was cleared to resume catching and dribbling as he rehabs his right wrist.After undergoing a fresh set of X-rays earlier this week, Celtics guard Delonte West has been cleared to handle the basketball without the black brace he's used as part of his recovery from a broken right wrist.
West also reaffirmed that he's still on schedule with his rehab and hopes to join the team on the practice court in 2-3 weeks. While he's now able to dribble the basketball with his right hand, which he said last week he hoped to be able to do this week, he also stated that he's hesitant to catch the ball with the same hand.
"[I'm] not catching just yet," West said. "I'm still a little timid, but I'm getting there. As far as dribbling, trying to do whatever I can with the right hand, I'm permitted to do that. Obviously, I'm naturally timid to catch anything or fall on it, but each day my confidence with the right hand and the strength in it is getting better. ... Right now it's still a little sore on the impact, so I'm naturally timid to catch the ball with it, but I'm cleared to do as much as my wrist can permit."
West said he will undergo a CAT scan next Tuesday to further monitor his progress and could begin practicing soon after.
"Everything's on schedule, as far as dealing with the pain and the rotation, I'm actually ahead of schedule," West said. "I'm happy about the progress and each day is better than the last one. [The wrist] might not get back to 100 percent this season, but I'll be able to play with it."
In terms of when West might return for game action, he was hesitant to put a specific date on it, mainly because of how well his team has been playing during his absence.
"What the doctors say still isn't on Doc Rivers' schedule," West said. "We have a good team here, guys are playing well, and just because I'm cleared to play doesn't mean I will play."
For his part, Rivers said he likes what he's seen out of West's rehab thus far.
"Well, he's making shots," Rivers said. "I've watched him shoot, so that's good. ... I know he can shoot and he's running around. It's more of a healing thing now. Even though he can do all that stuff, he still has to make sure [to strengthen the wrist], because it's a wrist, and if someone hits it, it's not right. In this case, they have to wait until the [tests] say that he can play."
--DANIELS (ANKLE) DEPARTS GAME, EXPECTS TO PLAY FRIDAY VS. UTAH--
It's been a rough week for Marquis Daniels.
After running into a Kendrick Perkins screen that left him with a back stinger and forced him out of practice Sunday, Daniels rolled his left ankle while driving to the basket in the second quarter Wednesday and sat out the second half.
Asked after the game about the diagnosis on his ankle, Daniels said simply, "Ice and elevate." Pressed if he'd play Friday night against Utah, he said he planned to.
Daniels drove strong to the basket early in the second quarter, but appeared to tweak the ankle while turning to run back up court after missing the shot. He departed with 10 minutes to go in the quarter and scored two points on 1-of-4 shooting with three rebounds over five minutes.
The Celtics originally announced that Daniels would have the ankle retaped and return, but he did not accompany the team out for the start of the second half and was soon declared out for the game.
Daniels, one of five Boston players to appear in all 41 games, has a history of injury troubles, but has been the stalwart of a banged-up bench this season.