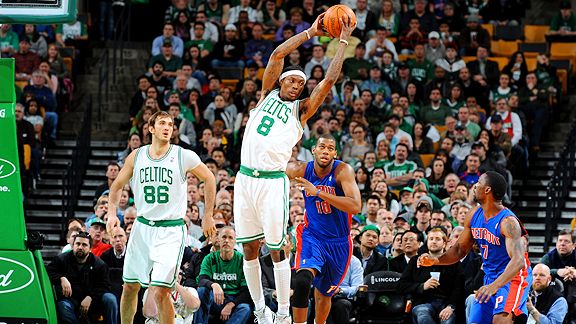 Brian Babineau/NBAE/Getty Images
Marquis Daniels rolled his left ankle Wednesday night against the Pistons.BOSTON -- Celtics reserve swingman Marquis Daniels rolled his left ankle after driving to the basket in the second quarter of Wednesday's tilt with the Detroit Pistons and sat out the second half due to the injury.
The Celtics originally announced that Daniels would have the ankle re-taped and return, but he did not accompany the team out for the start of the second half and was soon declared out for the game.
Daniels, one of five Boston players to appear in all 41 games this season, has a history of injury troubles, but had been the stalwart of a bench in constant flux due to injuries to others this season.
Daniels drove strong to the basket early in the second quarter, but appeared to tweak the ankle while turning to run back up court after missing the shot. He departed with 10 minutes to go in the frame. Daniels scored two points on 1-of-4 shooting with three rebounds over five minutes.