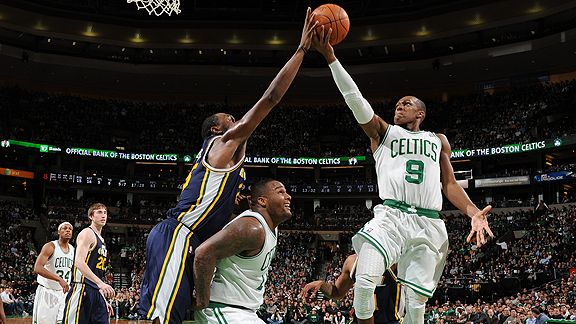 Brian Babineau/NBAE/Getty Images
Rajon Rondo paced the Celtics' offensive exploits.BOSTON -- Everything you need to know after the Boston Celtics defeated the Utah Jazz 110-86 Friday night at the TD Garden:
Rapid Reaction | Game Recap | Box Score
--CELTICS JAZZ UP THEIR OFFENSE WITH BALL MOVEMENT--
The Utah Jazz know a thing or two about ball movement. They entered Friday's game ranked second in the NBA in assists per game (24.0), second only to the Boston Celtics (24.6) team they were visiting. Boston proceeded to put on a passing clinic as the Celtics assisted on 31 of 37 field goals -- a whopping 83.8 percent of their total buckets, their best percentage of the season -- while racing to a lopsided 110-86 triumph at TD Garden. Jerry Sloan, head coach of the Jazz since Rajon Rondo was 2 years old, and someone who presided over nearly the entire John Stockton era, could only shake his head as he said with a sigh afterward, "Well, they showed us what basketball is like tonight."
--POSTGAME NOTES: ERDEN READY WHEN CALLED--
When Jermaine O'Neal returned to the Celtics' lineup on Christmas Day, coach Doc Rivers gave rookie Semih Erden a bit of coal in the form of seven straight DNPs. Even when Kevin Garnett went down four days later in a game Erden missed due to an upper respiratory infection, Rivers leaned on fellow rookie Luke Harangody to fill the void in the frontcourt while noting his intensity in game and practice situations was simply more inspired than what Erden was producing. But Rivers also reminded Erden to stay ready because Boston's brittle frontcourt was going to need him again at some point.
--SHAQ INJURES HIP; MIGHT MISS COUPLE OF GAMES--
Boston Celtics center Shaquille O'Neal left Friday night's 110-86 win against the Utah Jazz with a sore right hip, and Celtics coach Doc Rivers suggested he might need to sit out a couple games to heal. O'Neal played six minutes in the first quarter, with one basket, one assist and one steal. He told Rivers early on that his hip wasn't feeling well and appeared to motion to the bench to be subbed out after converting a breakaway dunk with 6:01 to play in the frame.
--VIDEO: THE ASSOCIATION: BOSTON CELTICS, EPISODE 2--
For those that missed Friday's second installment of "The Association: Boston Celtics," here's the full episode.
--PREGAME NOTES: DANIELS (ANKLE) OK TO PLAY--
Celtics reserve swingman Marquis Daniels said the left ankle he sprained in Wednesday's win over the Detroit Pistons remains sore and a little swollen, but he planned to play in Friday's game against the Utah Jazz. Daniels rolled the ankle after missing a driving layup early in the second quarter Wednesday. He sat out the final 34 minutes of action and did not participate in Thursday's practice. After plenty of ice and elevation, he deemed himself fit to play Friday and Celtics coach Doc Rivers said he planned to utilize Daniels in his typical role.
Video Vault
Click HERE to watch all the video from Friday's game.
Tweet of the Night