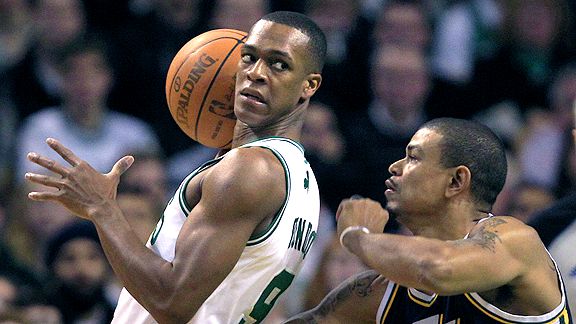 AP Photo/Charles Krupa
Rajon Rondo keyed Boston's breezy win over the Utah Jazz.BOSTON -- Rapid reaction after the Boston Celtics defeated the Utah Jazz 110-86 Friday night at the TD Garden:
HOW THE GAME WAS WON
Kevin Garnett scored a team-high 21 points on 7-of-10 shooting, while Paul Pierce kicked in 20 points on 5-of-8 shooting (making the trio of 3-pointers he attempted) to pace five Celtics players in double figures in a rare cakewalk. The much ballyhooed point guard battle between Rajon Rondo and Deron Williams fizzled when Utah's star found himself in early foul trouble and Rondo helped the assist-happy Celtics open a double-digit lead little more than eight minutes in and the Celtics never looked back.
TURNING POINT
The Celtics embarked on a 14-2 run five minutes into the first quarter to turn a one-possession game into a comfortable stroll thanks to a 15-point cushion that would only soar higher. Six different players scored during the pivotal burst, Pierce and Nate Robinson hitting back-to-back 3-pointers to push the lead to 27-12 with 3:20 to play in the frame.
STAT OF THE GAME
The Celtics registered 31 assists on 37 field goals, including 18 of the 20 field goals in the first half (10 of those assists belonged to Rondo) and Boston led by 18 at the intermission. Rondo finished with 12 assists as Boston turned the game over to its bench for much of the second half.
UNSUNG HERO
Pressed into heightened action after Shaquille O'Neal played the first six minutes and did not return due to a sore right leg, Semih Erden responded by making all five shots he took (including a few dunks) while putting up 14 points and six rebounds over 29 minutes. He finished plus-11 in the plus/minus category.
WHAT IT MEANS
The Celtics started off this six-game homestand on the wrong foot falling to the Houston Rockets, but responded with five straight wins, including this lopsided beauty on the first night of a back-to-back. Rondo logged a team-high 31 minutes, but Pierce and Garnett checked in at a mere 26. About the only downside was the right leg injury to O'Neal, but a large lead might have contributed to him merely resting in the second half. Boston treks to Washington Saturday and a well-deserved two-day rest looms after.