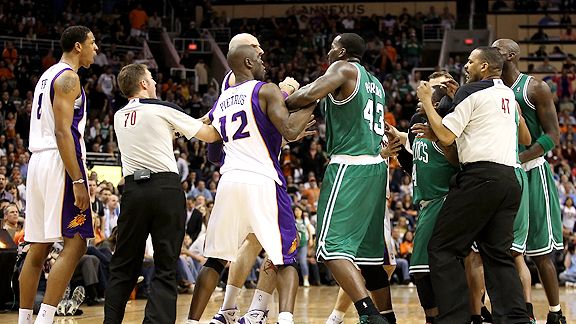 Christian Petersen/Getty Images
Tempers flared Friday night between the Celtics and Suns.Rapid reaction after the Phoenix Suns defeated the Boston Celtics 88-71 Friday night at the US Airways Center:
--BURN THE GAME FILM, THEN BURY IT--
If the Celtics had to do it all over again, they might just have steered the team plane directly to Los Angeles after Thursday's game in Portland, and forfeited Friday's debacle in Phoenix. Not only did Boston play awful, scoring a season-low 71 points on 34.2 percent shooting against one of the worst defenses in the league, but (in no particular order)...
Both coach Doc Rivers and Kevin Garnett were ejected; Boston earned a staggering six technical fouls overall; Glen Davis tweaked a hamstring and sat out the second half; Shaquille O'Neal picked up two fouls within the first 93 seconds and was limited in his first game back after sitting out three in a row with a sore hip; and Marcin Gortat (of all people) erupted for 11 of his career-high 19 points in the first quarter to stake Phoenix to an early 14-point cushion.
The Celtics did make a valiant charge in the fourth quarter, slicing an 18-point deficit in half before two dreadful possessions sucked the life out of the rally and a dust-up between Garnett and Channing Frye left the Suns shooting six consecutive free throws and fill-in coach Lawrence Frank emptying the Boston bench.
--STEVE JAVIE IS NOT ON C'S CHRISTMAS CARD LIST--
Rivers earned his first ejection of the season after referee Steve Javie tagged him with consecutive technical fouls late in the second quarter. After the game, Rivers used measured words to keep money in his wallet, but express his exasperation with the situation.
"Not sure," Rivers told reporters in Phoenix when asked what led to his first technical. "I didn't earn it. So you'll have to ask Mr. Javie."
Pressed, Rivers added, "[Javie] actually came into our huddle. We were standing there, he came up to us. I'll tell you exactly what was said. He said, 'You guys are complaining way too much.' And I said, 'Well, let's make the right calls.' And his answer back was, 'I'll make a call for you.' And that's how I got the tech."
Rivers could be seen on the broadcast chastising Javie, repeating, "It's all about you," and his mock clapping after the first technical led to Rivers' second infraction and his departure with Boston trailing 40-25 with 4:33 to play in the second quarter.
"I didn't have any choice words for him," Rivers told reporters. "I didn't say a word. I didn't even swear then. You know what I said? 'It's about the game. It's not about one individual.' That's all I said, over and over again. Whatever, it wasn't about that -- why we lost the game. We didn't play well, I thought they played well. It happens."
--RIVERS WASN'T ALONE FOR LONG IN THE LOCKER ROOM--
In a game that was already a bit chippy (Mickael Pietrus earned a fourth-quarter flagrant that featured some shoving with Garnett), tempers reached a boil late in the final frame. Garnett appeared to deliver a low (but perhaps unintentional) blow to Frye while shooting a 3-pointer and, when Frye landed on Garnett's foot following the attempt, he sprang up and got into Garnett's face. The Boston bench rushed to separate the pair and, after a lengthy video review, the Celtics were tagged with four technical fouls (two for Garnett -- one being a double technical with Frye -- and one apiece for Kendrick Perkins and Nate Robinson).
From his vantage point, Rivers didn't understand why Garnett got tossed.
"I'm in the locker room, I was very surprised," Rivers told reporters. "I saw it on TV and I actually thought Channing Frye was the instigator. Kevin didn't jump in Channing Frye's face. I thought Channing Frye jumped in Kevin's face. I don't know how we get a throw out to Kevin on that. Who knows.
"The foul was [Frye] stepped on [Garnett's] foot. Channing Frye came down and landed on Kevin's foot. He definitely did that. Kevin didn't do it on purpose. That's all I saw with the foul. They showed that over and over again. That was pretty clear."
But what about Garnett's low blow?
"If that did happen, then it would only be the 20th time it happened in the game by everybody," Rivers told reporters. "You see it all the time. Guys always poke at your stomach and, come on, if that's what gets a guy upset, then he's a really tough guy."
--BOSTON'S RALLY WAS OVER ANYHOW--
The Suns' lead topped out at 18 with just under eight minutes to play in the fourth quarter. To Boston's credit, it fought back (seemingly ignited by the Pietrus flagrant). Garnett hit a pair of free throws, then a 7-foot turnaround jumper before Ray Allen added a 3-pointer. Robinson's 20-foot jump shot made it 78-69 with 5:29 to play, but things went sour quickly.
Robinson got a long rebound off Phoenix's next possession and pushed the ball hard up the court before pulling up for an ill-advised 25-foot, off-balance 3-pointer from the top of the key (20 seconds still on the shot clock). It found iron and Gortat produced a layup at the other end to push the lead back to double digits. Perkins followed with an unnecessary illegal screen, causing a turnover 13 seconds before the KG-Frye dust-up.
"We're humans," Rivers told reporters. "It happens. You can have great standards, and we do, and you just have a stinker, and tonight was one of those nights. We don't have many of them. Yet, through it all, it was still a nine-point game in the fourth quarter. We had two breaks, one was [an illegal screen] and one was a ill-advised three, so, even through all that, we still had a chance to get back in the game."
--THE FALLOUT: MOVING ON TO THE LAKERS--
The Celtics will enjoy a much-needed day off Saturday as they trek to Los Angeles for Sunday's showdown with the Lakers. It is the first meeting between the teams since Game 7 of the NBA Finals and Boston will almost certainly get caught up in the emotion returning to the Staples Center for the west coast matinee.
But after Friday's head-slapper, the Celtics need to avoid getting overly emotional and simply play their game. In the end, Sunday's game means no more than the road-trip finale two nights later against the Sacramento Kings. Yes, it will be impossible for the Celtics' players to believe that -- and with good reason -- but after two ugly outings in a row to start this trip, Boston could use a solid all-around effort (and will need it to beat the Lakers).
--THIS SUMS UP FRIDAY'S GAME FOR BOSTON PERFECTLY--
When a guy like Gortat puts up 19 points and 16 rebounds on your team, you just tip your cap and move on. His shrug-worthy 3-pointer at the end of the first quarter, putting the Suns out front, 30-16, should have told Boston it was going to be one of those nights.
ESPN Screenshot
When Marcin Gortat is hitting 3-pointers like this ...