Countdown to LA: Revisiting Game 7
January, 29, 2011
1/29/11
12:30
PM ET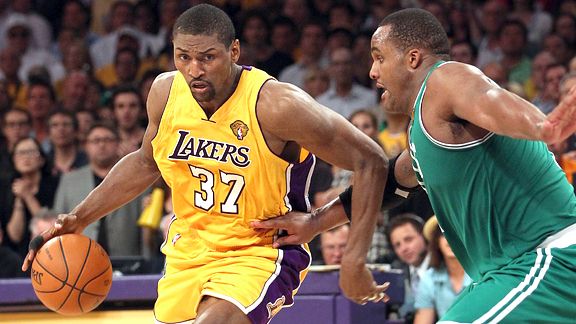 Christian Petersen/Getty ImagesThe Celtics will hear plenty about their Game 7 loss before Sunday's game.
When
our friends at the Land O' Lakers Blog
invited me to sit in with them and revisit Game 7 of the NBA Finals in advance of Sunday's Celtics-Lakers rematch at the Staples Center, I knew few people in Boston would hear it. Seven months removed, the wounds haven't quite healed; They might never unless the Celtics atone this June.
For most Celtics fans, it's still not easy to go down that road and examine what exactly went wrong. After watching pieces of the game again and studying the box score, even this reporter remains baffled at how Boston let Banner 18 slip away. They held the Lakers to 32.5 percent shooting overall -- limiting Kobe Bryant to 6-of-24 shooting -- and boasted a 13-point third-quarter lead. But it wasn't meant to be, the Celtics running out of gas six minutes before the finish line of a marathon season.
Click
HERE
to listen to the podcast (if you dare). Hop
HERE
for more details from ESPN Los Angeles' Brian Kamenetzky.
PODCASTS
Peter King, NFL
Play Podcast Sports Illustrated's Peter King weighs in on the Patriots' offensive line, the outlook for New England, Jim Harbaugh's relationship with his team and the Cowboys' success.
Opening Rant, 9/30
Play Podcast Colin Cowherd shares his thoughts on the state of the Patriots, New England's offense and Brady Hoke's future at Michigan.
First Take
Play Podcast Skip Bayless & Stephen A. Smith debate if the Patriots dynasty is over, if the 49ers have stopped listen to Jim Harbaugh and more. Plus, they make their World Series predictions.