Countdown to LA: Let's do this
January, 30, 2011
1/30/11
6:00
AM ET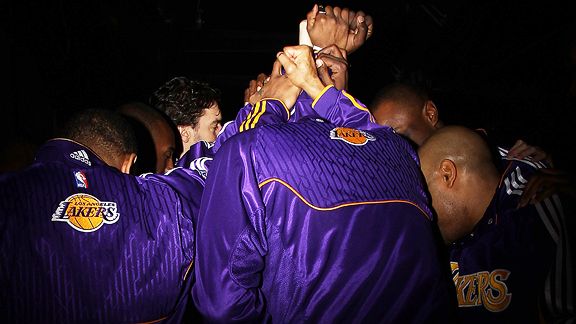 Ronald Martinez/Getty ImagesFor the first time this season, the Celtics and Lakers clash Sunday at the Staples Center.
LOS ANGELES -- For the first time since Game 7 of the NBA Finals, the Celtics and Lakers clash Sunday afternoon (3:30 p.m., ABC) at the Staples Center. As the hype reaches a crescendo, here's a fresh dose of preview content:
--
WHAT TO WATCH FOR: CELTICS VS. LAKERS
--
The Celtics and Lakers will be against each other Sunday, but ESPN Boston and ESPN Los Angeles joined forces to preview the matchup with a focus on Boston's success despite injuries, the Lakers losing in patches, Shaq's return to Hollywood, and predictions about Sunday's blockbuster. A sampling: "Boston has the emotional edge, but I think the Lakers are also sick of the whispers about lacking a true 'statement win' against the NBA's elite."
--
A 'BIG'-TIME MATCHUP FOR CELTICS AND LAKERS
--
Just more than seven months ago, the Boston Celtics lost Game 7 of the NBA Finals in Los Angeles. What's the biggest adjustment they've made since then? Adding three centers who each stand darn near 7 feet tall. The Celtics return to L.A. on Sunday to play the Lakers for the first time since being outrebounded by 13 and spending the postgame locker room drenched in salty tears rather than spraying champagne.
--
LAKERS IN SEARCH OF FIRST BIG WIN
--
There have been hundreds of highlights and big moments. There have already been plenty of big games. It's what hasn't happened for the Los Angeles Lakers this season that's becoming a little alarming: big wins. Oklahoma City Thunder? Eh … New Orleans Hornets on the road? Not bad, still eh … Those are good teams, not great ones. Those are teams the Lakers must keep down, not climb over.
Click
HERE
to read more in our Countdown to LA series.
PODCASTS
Adam Schefter, NFL
Play Podcast ESPN NFL Insider Adam Schefter covers Rob Gronkowski's latest forearm surgery, the possibility of a new league schedule, Super Bowls L and LI, Charles Woodson and more.
Barry Melrose, NHL
Play Podcast ESPN NHL analyst Barry Melrose talks about big wins for the Bruins and Sharks on Thursday night and compares the end of Wayne Gretzky's career to the end of Michael Jordan's career.
Broussard And Virk On Another Gronkowski Surgery
Play Podcast Adnan Virk and Chris Broussard discuss another surgery on Rob Gronkowski's broken forearm and wonder if Gronkowski's inability to heal from this injury is a red flag for the rest of Gronkowski's career.