Snapshot: Sunday's refs
January, 30, 2011
1/30/11
12:05
PM ET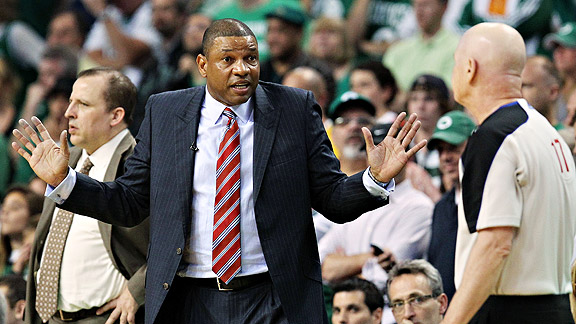 Ronald Martinez/Getty ImagesDoc Rivers chats with Joey Crawford during last year's NBA Finals.
Joey Crawford, who worked Game 7 of the NBA Finals last season, is part of an officiating crew for Sunday's Celtics-Lakers showdown that also features Marat Kogut and Tom Washington. This is Crawford's third Celtics assignment this season (he also reffed a an 89-84 loss to the Thunder on Nov. 19 and a 100-75 win over the Nets on Dec. 5.) Kogut was part of a the crew for Celtics-Magic on Christmas Day, but it was referee Bob Delaney that drew most of the ire from Shaquille O'Neal and his teammates.
PODCASTS
Adam Schefter, NFL
Play Podcast ESPN NFL Insider Adam Schefter weighs in on the Panthers' WR situation, Julian Edelman's future with the Patriots, Vince Wilfork's decision to ask for his release and more.
Spanning the Globe: 3/13
Play Podcast "Spanning the Globe" features ESPN Boston's Mike Reiss, Yahoo! Sports' Eric Edholm and ESPN LA 710's Mark Willard.
John Farrell, Red Sox
Play Podcast Red Sox manager John Farrell talks about whether he expected his team to make such a turnaround in one season, his relationship with his players, fans' expectations for the squad and more.