Morning shootaround: Sitting pretty
February, 1, 2011
2/01/11
8:45
AM ET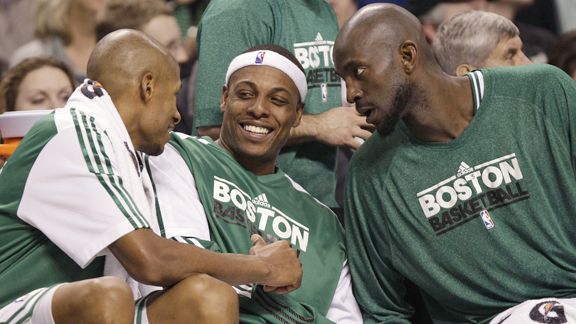 AP Photo/Stephan SavoiaBoston's Big Three has plenty of reasons to smile so far this season.
After Sunday's triumph over the rival Lakers, the Celtics took Monday off while flying to Sacramento for Tuesday night's road trip finale against the Kings. Here's a look at the offday headlines:
--
FORSBERG: AFTER A BIG JANUARY, CELTICS ARE NBA'S BEST
--
The San Antonio Spurs have far and away the best record in basketball, but don't be deceived. The Boston Celtics are far and away the best team in basketball as the calendar flips to February. After Boston's 109-96 thumping of the Los Angeles Lakers on Sunday at the Staples Center, there can be no argument. The Celtics wrapped up the month of January with a glossy 5-1 record against teams with records better than .500, including a 105-103 triumph over those very Spurs (which, if not for some careless final moments, wouldn't have been as close as the final score suggests). It's clear the Celtics have saved their best basketball for top competition. For the season, they have a 17-5 mark overall against teams above .500. In fact, against the seven other Eastern Conference teams that would currently qualify for the postseason, Boston boasts a 13-2 mark, falling only to Chicago (the second night of a back-to-back to wrap up a slate of six games in nine days in January) and Orlando (a Christmas Day battle in which Boston fumbled away a double-digit, second-half lead).
A look at the day's other top headlines:
*
Power Rankings: Celtics stuck at No. 2 behind Spurs
*
Pierce wants to face Allen while defending 3-point crown
*
Rondo and his 'absolutely perfect game' vs. the Lakers
*
The new Kobe Stopper? Same last name as the old Kobe Stopper
PODCASTS
Adam Schefter, NFL
Play Podcast ESPN NFL Insider Adam Schefter weighs in on the Panthers' WR situation, Julian Edelman's future with the Patriots, Vince Wilfork's decision to ask for his release and more.
Spanning the Globe: 3/13
Play Podcast "Spanning the Globe" features ESPN Boston's Mike Reiss, Yahoo! Sports' Eric Edholm and ESPN LA 710's Mark Willard.
John Farrell, Red Sox
Play Podcast Red Sox manager John Farrell talks about whether he expected his team to make such a turnaround in one season, his relationship with his players, fans' expectations for the squad and more.