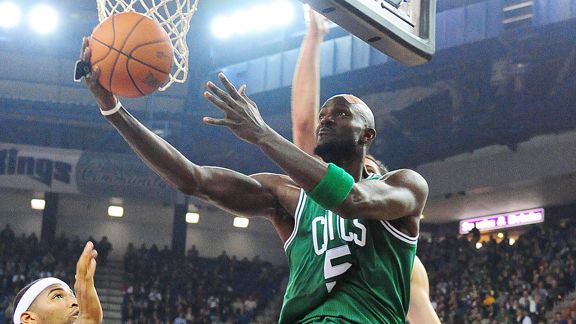 Kyle Terada/US Presswire
Kevin Garnett helped the Celtics crank up their intensity in Tuesday's win over Sacramento.Rapid reaction after the Boston Celtics defeated the Sacramento Kings 95-90 Tuesday night at ARCO Arena:


HOW THE GAME WAS WON
Ray Allen splashed 4-of-7 trifectas, trimming his chase of Reggie Miller's career 3-point record to nine, while also spurring the Celtics with a game-high 22 points. Allen finished 9-of-15 shooting from the field overall, adding six rebounds and two assists over 36:56. An attack-mode Rajon Rondo added 17 points, 10 assists, and four steals in a game in which Boston leaned heavy on its starters. DeMarcus Cousins and Tyreke Evans chipped in 20 points apiece for Sacramento.
TURNING POINT
The Celtics trailed by nine coming out of halftime, but leaned on their starting unit's defense while erasing that deficit in the third quarter. Boston limited Sacramento to a mere two field goals over the first 7:38 of the frame, embarking on a 17-7 run during that span and a pair of Kevin Garnett free throws with 4:52 remaining in the quarter put the Celtics out front, 62-61.
STAT OF THE GAME
Kendrick Perkins hauled in a game-high 10 rebounds over 24 minutes off the bench as the Celtics continued their recent trend of dominating the glass, finishing with a 43-36 edge over Sacramento.
UNSUNG HERO
Reserve guard Nate Robinson, equal parts frustrating and tantalizing, registered five steals, including three in the final frame as Boston's defense tightened up. Robinson took some ill-advised shots early on, but redeemed himself enough to play the entire fourth quarter and finish out the game as the team's primary ball-handler.
WHAT IT MEANS
The Celtics wrapped up a fairly daunting four-game road trip at 3-1. Considering the challenging scheduling and some quality opponents (even the Kings were playing inspired ball), to come away with three wins is quite the feat. The Celtics now get two days off (they'll need it given the weather woes that will prevent them from flying home after Tuesday's tilt) before Dallas visits to kick off a grueling home slate in the month of February.