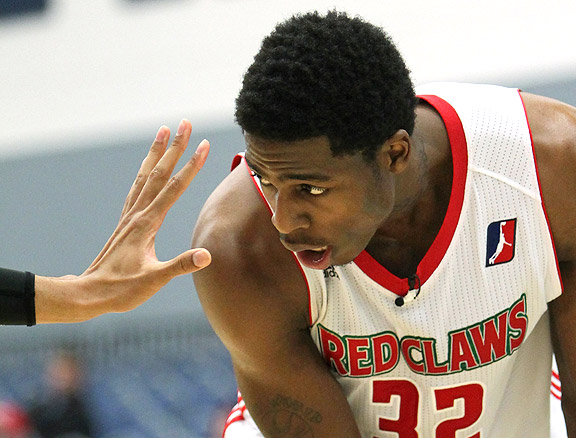 Joe Murphy/NBAE via Getty Images
DeShawn Sims, who spent time with the C's summer squad, earned a D-League All-Star nod.Maine Red Claws forward DeShawn Sims earned a spot in the fifth annual NBA D-League All-Star Game, which will be held in conjunction with the NBA's All-Star festivities later this month in Los Angeles.
"DeShawn Sims has been a terrific player for us from the first day he arrived," said Red Claws president and general manager Jon Jennings. "He earned his way to the NBA D-League All-Star Game, and I am sure this is just the beginning of great things to come for him. DeShawn Sims is a player NBA teams are keeping a close eye on, and he is a leading candidate for the NBA D-League Rookie of the Year."
Sims, who played for the Celtics' summer league squad after going undrafted out of Michigan, is averaging 18.2 points and 8.3 rebounds in 27 appearances (24 starts) for Maine. Sims began the year with PAOK Thessaloniki in Greece, but returned stateside and was swooped up by the Claws in the available player pool.
Selected to the NBA D-League All-Star East Team were Chris Johnson (Dakota Wizards), Ivan Johnson and Garrett Temple (Erie BayHawks), Walker Russell Jr. (Fort Wayne Mad Ants), Othyus Jeffers, Courtney Sims and Curtis Stinson (Iowa Energy), DeShawn Sims (Maine Red Claws), Patrick Ewing Jr. and Dexter Pittman (Sioux Falls Skyforce).
Chosen to the NBA D-League All-Star West Team, playing host to the East Team in Los Angeles, were Marcus Cousin (Austin Toros), Trey Johnson (Bakersfield Jam), Shane Edwards (New Mexico Thunderbirds), Jeff Adrien and Mustafa Shakur (Rio Grande Valley Vipers), Joe Alexander and Sean Williams (Texas Legends), Larry Owens and Zabian Dowdell (Tulsa 66ers) and Orien Greene (Utah Flash).