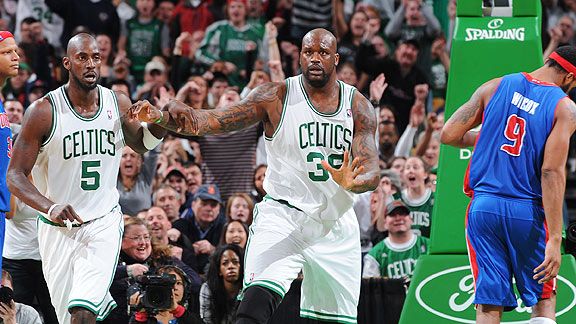 Brian Babineau/NBAE/Getty Images
The Celtics will host four of the league's best over the next 10 days.WALTHAM, Mass. -- Home sweet home? Hardly.
Fresh off an ultra-successful, four-game road trip -- a trek extended an extra day thanks to winter weather woes back home -- the Celtics returned to Boston on Wednesday to not only find the latest mixture of snow and ice dumped on top of the region, but also an upcoming schedule that's so daunting, it makes their just-concluded West Coast venture look like a vacation.
Over the course of the next 10 days, the Celtics will host the Mavericks (Feb. 4), Magic (Feb. 6), Lakers (Feb. 10) and Heat (Feb. 13) -- four of the top 10 teams in the NBA -- with a tail end of a back-to-back mixed in on the road against the Bobcats (Feb. 7).
"We don't have a game that we can rest upon until after the All-Star break," sighed Celtics coach Doc Rivers.
Click HERE to read the full story.