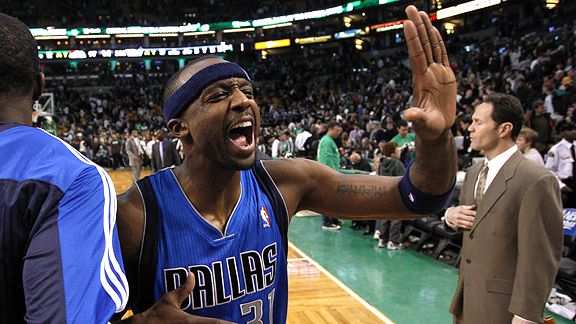 Mark L. Baer/US Presswire
The Mavs had reason to celebrate at game's end vs. the Celtics.BOSTON -- Everything you need to know after the Dallas Mavericks defeated the Boston Celtics 101-97 Friday night at the TD Garden:
Rapid Reaction | Game Recap | Box Score
--FORSBERG: REASONS FOR CELTICS' LOSS ARE SIMPLE--
Maybe we've simply become too spoiled by them. So conditioned to believe that they'll convert that final play and win every close game, that we're left searching for answers that couldn't be more obvious when things go awry. But surely there had to be a grand explanation Friday night about why the Boston Celtics' offense disappeared over the final 2:43 against the Dallas Mavericks, the hosts fumbling away a six-point lead while missing their final five shots before Rajon Rondo's last-gasp inbounds lob for Kevin Garnett sailed a bit too high and into the stands, securing Dallas' 101-97 triumph at the TD Garden. "We just lost the game," said Celtics coach Doc Rivers.
--MAY: PERKINS BACK IN FULL FORCE AS STARTER--
There was Danny Ainge, taking the podium after the game and announcing arthroscopic knee surgery for Jermaine O'Neal. The man they call "J.O." might be back for the playoffs. There was Kendrick Perkins, standing by his locker after the game, ice bags on both knees after posting a double-double in 32-plus minutes. It was just his sixth game since he returned following major reconstructive knee surgery. By all accounts, he is back. No qualifier is needed.
--CAPLAN: OFFENSE CATCHES UP WITH BIG D--
Defense wins championships, and the Dallas Mavericks have spent the season talking about it and actually putting it on the floor with a huge assist to Tyson Chandler. But Jason Kidd knows that scoring points along the way makes playing defense a lot more fun. "We have a pretty good record when we score 100 points," Kidd said.
--POSTGAME NOTES: J.O'NEAL UNDERGOES SURGERY--
Boston Celtics reserve center Jermaine O'Neal underwent a left knee arthroscopy Friday and the team optimistically set a recovery window of 6 to 8 weeks, according to president of basketball operations Danny Ainge. O'Neal, who has missed 32 games this season due to lingering soreness in his knee, was in the middle of a four-week rehab stint aimed at strengthening the muscles around the knee, believing that would allow for a late February return. But swelling persisted and, despite initial hopes that surgery could be avoided, O'Neal elected for the procedure which could have him back on the court before the end of the regular season, with Ainge noting that early April is the initial goal.
For more, check out ESPNBoston.com and ESPNDallas.com.